winter and holiday celebration + catering packages by the jdk group
As the crisp air of autumn settles in, we know the winter and holiday season is just around the corner.  This year, we are here to help you celebrate the reason for the season – connection and memory-making with those you care about most.
With pandemic precautions still present but perhaps not as restrictive, our team is full of joy to help you and your loved ones celebrate this season with dazzling delight paired with cozy comforting vibes.  From thoughtfully curated design elements and comforting menu options that are sure to bring on a flurry of flavor, to our welcoming and friendly service team that will feel like family – we want to help your holiday celebration this year make up for the lost opportunity of gathering in holiday seasons of the past.  Allow our team to take on the party-planning to-do's so you can focus on what matters most – spending quality time with your friends, family, or coworkers.
a time to rejoice together
Cheers to rejoicing in the opportunity to gather once again during this most wonderful time of the year!  Contact our team of Event Specialists – your personal holiday cheermeisters – to get your holiday party on the event calendar today!
winter + holiday menu collection
Our new winter and holiday menus are here!  View a variety of new mouthwatering menu items from interactive chef-tendered food stations to decadent deserts and savory hors d'oeuvres below!
*Hot Fried Chicken Waffle 
Buttermilk Fried Chicken Bite, Nashville Hot Sauce, Dill Pickle Chip 
*Seared Edamame Dumpling (V) 
Edamame Dumpling, Ginger Aioli 
*Southern Fried Hush Puppy 
Spicy Pepper Jam
Blackened Cod Fish and Chips
White Balsamic Radicchio Slaw, Chipotle Mayo, Waffle Fry
Mini Carne Asada Street Taco 
Marinated Flank Steak, Fresh Salsa Verde, Pickled Onion, Soft Flour Tortilla
*Mexi Street Corn Beef Brioche Bite
Braised Beef Short Rib, Mexi Street Corn, Lime Zest, Smoked Paprika Cream
*Blueberry Bacon Crostini 
Cream Brie, Applewood Smoked Bacon, Roasted Balsamic Blueberries, Crostini, Micro Marigold
*Wild Mushroom Tart 
Lemon Rosemary Aioli
Seared Scallop
Orange Rum Sauce, Curly Parsley
 *Coconut Shrimp 
Spicy Yuzu Sauce

* = can be stationed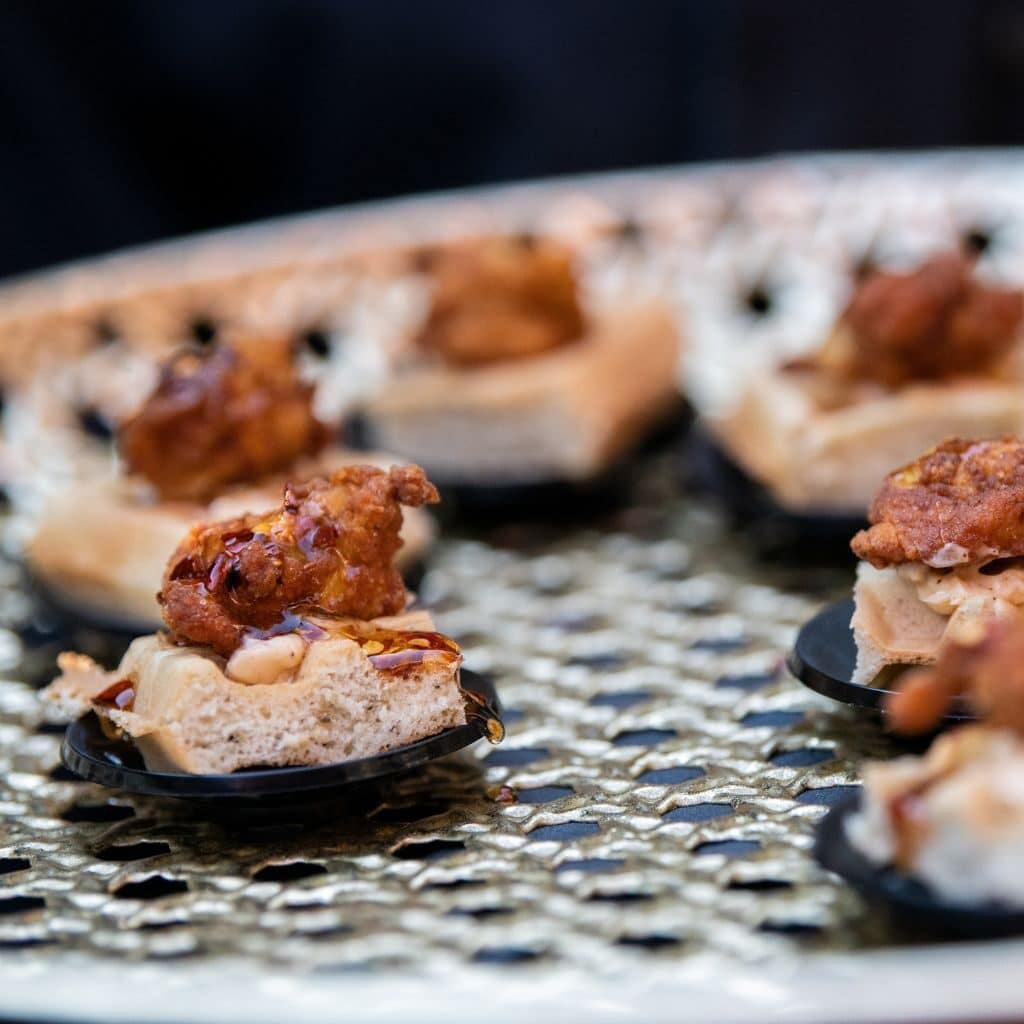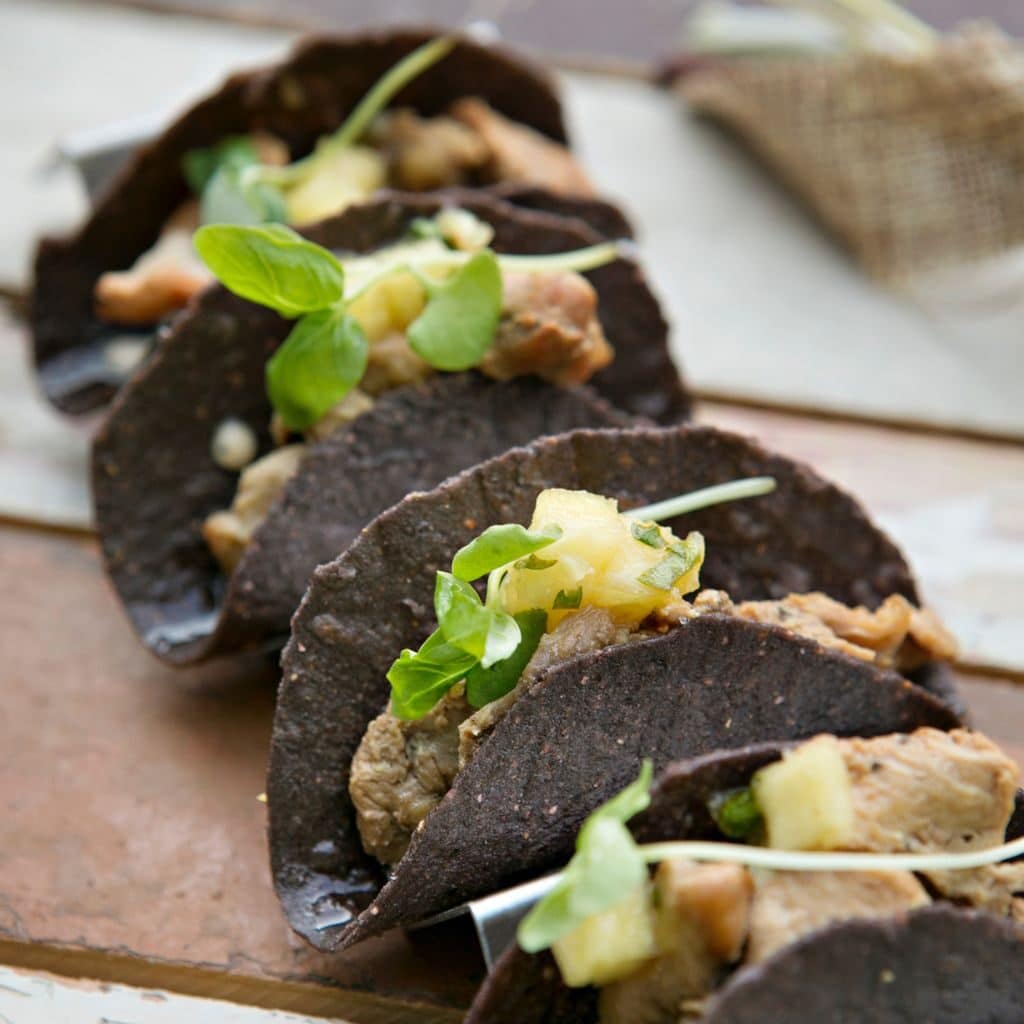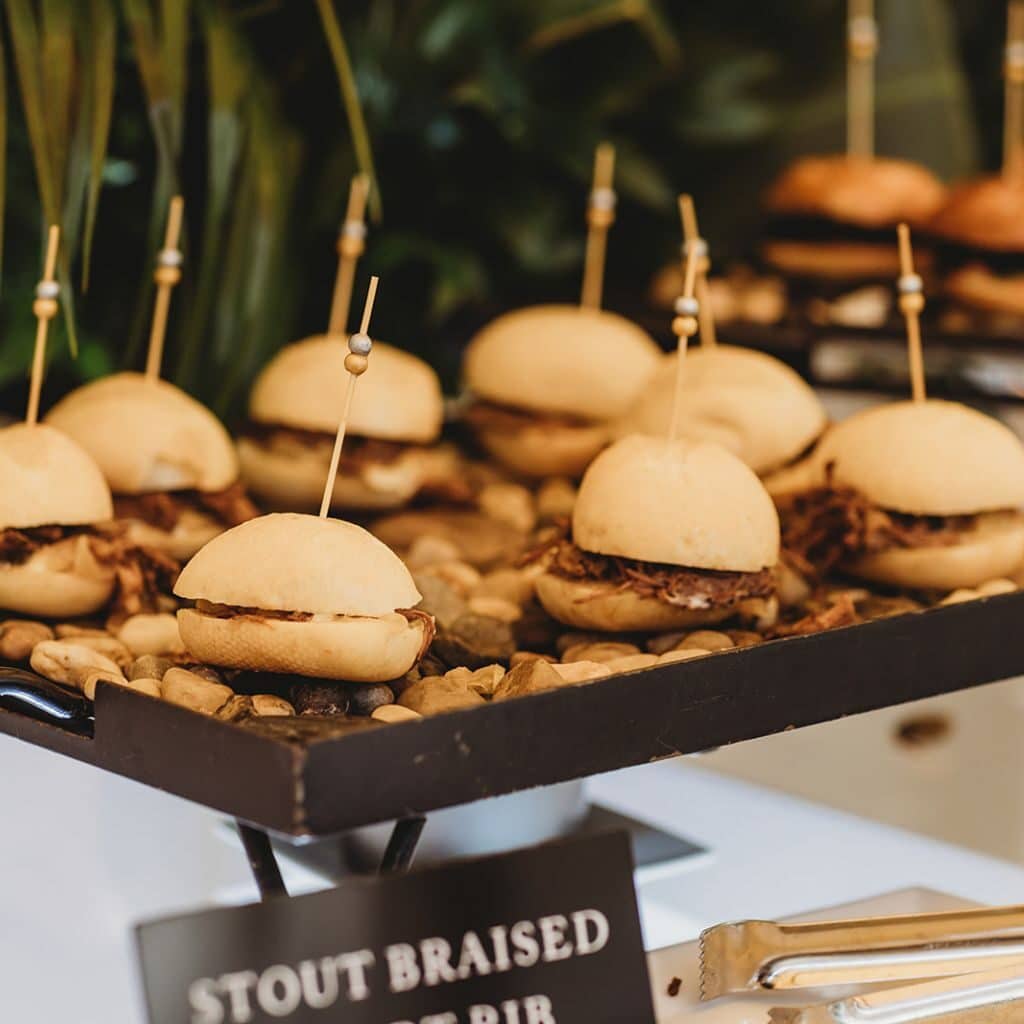 Sticky Bourbon BBQ Chicken Skewer
Chicken Thigh, Sticky Bourbon BBQ Sauce
Crispy Jerk Chicken Bite
Cilantro Orange Gremolata
Manchurian Cauliflower Bites
Breaded Cauliflower, Manchurian Sauce, Chopped Scallions
Stout Braised Short Rib Slider
Gorgonzola Aioli, Caramelized Sweet Onion Relish, Rustic French Roll
Loaded Mashed Potato Croquette
Loaded Mashed Potato Croquette, Bacon, Cheddar Jack, Scallions
Honey Buffalo Meatballs
Traditional Meatball in a Sweet and Spicy Apricot Sauce
Greek Turkey Slider
Turkey Sausage, Tzatziki, Red Onion Relish, Halloumi Cheese, Leaf Lettuce, Brioche Bun
Elevate Your Cocktail Hour
Tenderloin Smashed Dutch Potato
Garlic Parmesan Smashed Dutch Potato, Grilled Tenderloin, Whipped Burrata Mousse, and Mushroom Powder
Maine Lobster Grilled Cheese
Maine Lobster and Remoulade Sauce with Smoked Gouda and Gruyere Cheese on Buttery Brioche Toast
Hamachi Crudo 
Hamachi Tuna Crudo, Apricot Jam, Red Onion Relish, Toasted Coconut Edible Spoon
Salmon Sushi Cup
Salmon, Broccoli Slaw, Unagi Sauce, Ginger Peel, Seaweed Chip, Rice Cup
Miniature Crab Cake 
Cilantro Citrus Aioli
*these elevated selections are more complex compositions and include higher cost ingredients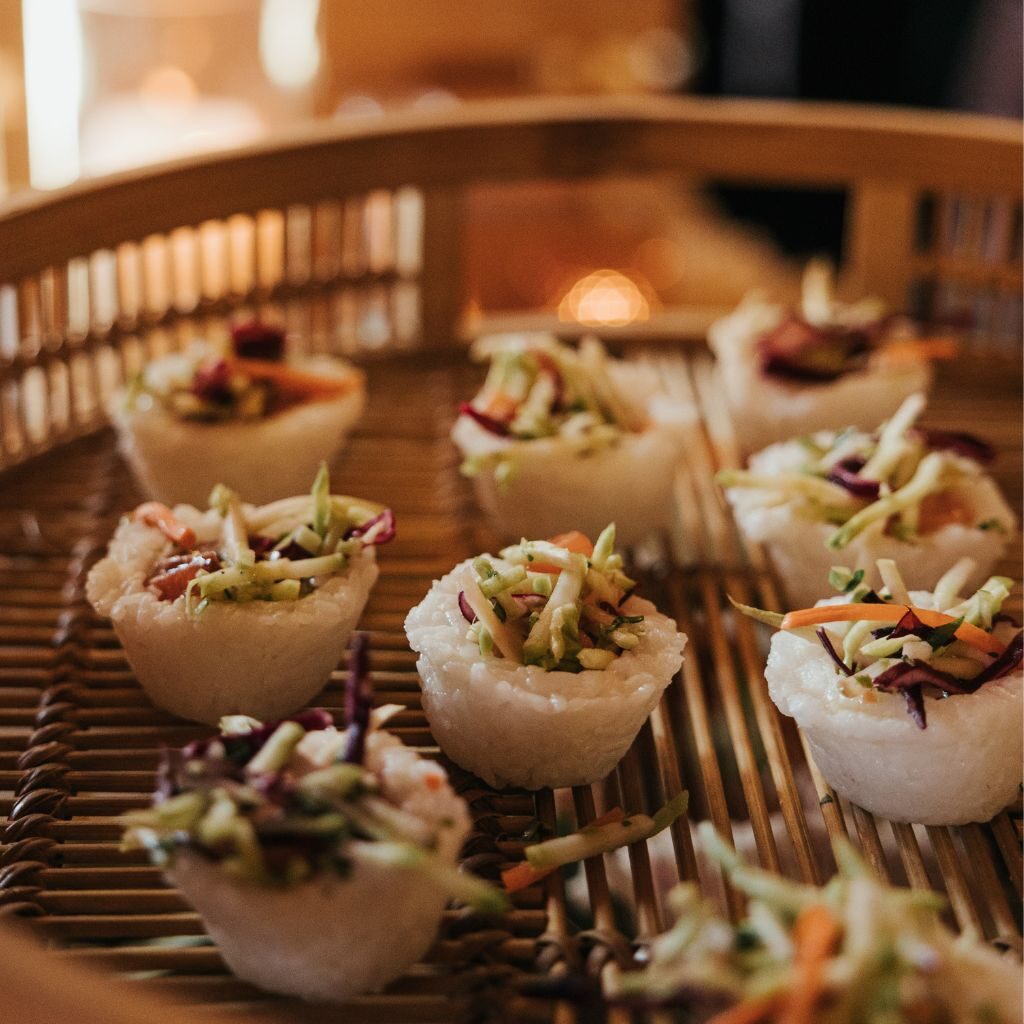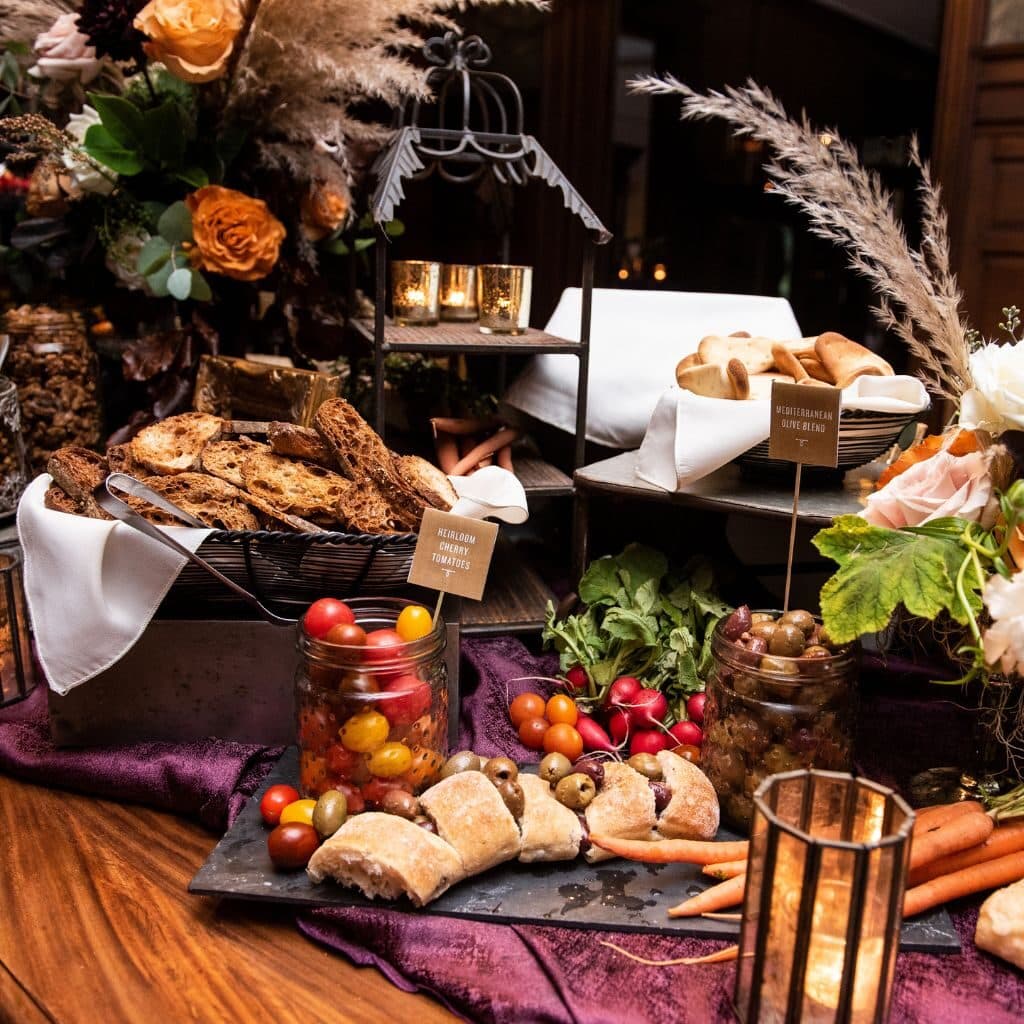 Winter Artisan Cheese Display
Winter Artisan Cheese Display
Aged Cheddar, Sharp Provolone, Drunken Goat, Apple Raisin Chutney, Dried Black Mission Figs, Peppadew Peppers, Dried Apricots, Dijon Lime Mustard, Flatbread Crackers 
Charcuterie – Sweet Dry Coppa, Salami Piccante, Dried Bresaola 
Accoutrements – Naan Chips, Crostinis
Mediterranean Grazing Station
Mediterranean Grazing Station
Cheeses: Halloumi, Mozzarella Ciliegine, Drunken Goat
Charcuterie: Salumi Toscano, Prosciutto
Accompaniments: Assorted Crudite, Peppadew Peppers, Pepperoncini's, Mediterranean Olives, Fresh Bruschetta, Roasted Garlic Hummus, Dried Apricots, Dried Black Mission Figs, Flatbread Crackers, Ciabatta Crostinis, Pita Crisps
Choose 3 flatbreads from the following:
Roasted Garlic Hummus Flatbread
Roasted Garlic Hummus, Sundried Tomatoes, Fresh Spinach, Basil Pesto, Toasted Pine Nuts, Ricotta Salata
Shrimp Spring Roll Flatbread
Chopped Shrimp, Broccoli Slaw, Spicy Mayo, Gochujang Sauce, Sesame Seeds
Crumbled Sausage & Apple Flatbread
Crumbled Sausage, Sliced Apples, Red Onion, Goat Cheese, Honey Dijon Sauce, Baby Arugula
Sliced Sirloin & Portobello Flatbread
Sliced Sirloin, Roasted Tomatoes, Sauteed Portobello Mushrooms, Caramelized Onions, Gorgonzola Cheese, Aged Balsamic
Root Vegetable Salad
Chopped Kale, Sliced Granny Smith Apples, Shredded Carrots, Julienne Rutabaga, Scallions, Agave Citrus Vinaigrette
Winter Heirloom Salad 
Tri Colored Carrots, Heirloom Cherry Tomatoes, Beets, Fresh Mozzarella, Cinnamon, Spiced Orange Vinaigrette
Asian Chopped Salad 
Chopped Romaine, Shredded Red Cabbage, Shredded Carrots, Capsicum, Mandarin Orange, Toasted Almonds, Chili Sesame Vinaigrette
Pan Seared Dumplings Station
Pan Seared Dumplings Station 
Dumplings :Edamame Dumplings, Chicken Lemongrass Dumplings, Pork Dumplings
Sauces: Teriyaki Sauce, Spicy Gochujang Sauce, Orange Ginger Sauce, 
Toppings: Chopped Scallions, Shredded Carrots, Purple Cabbage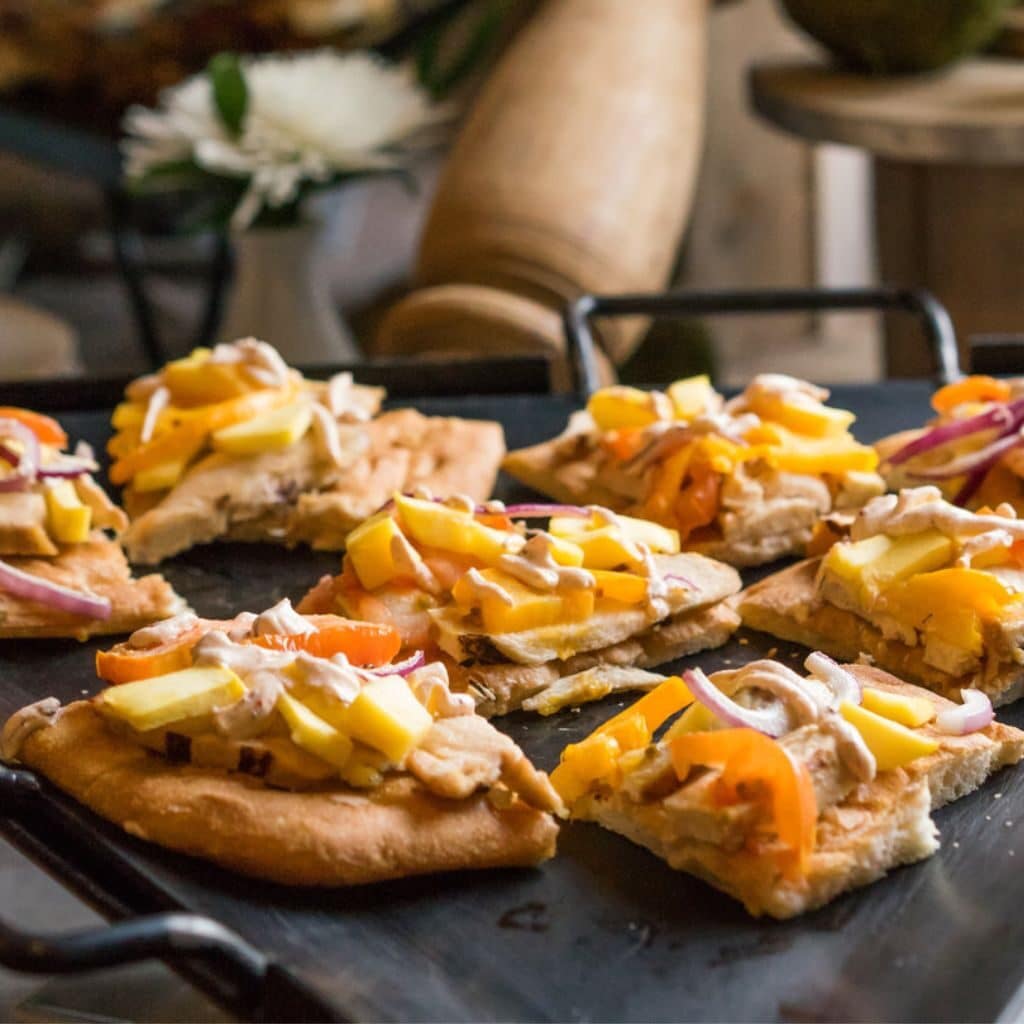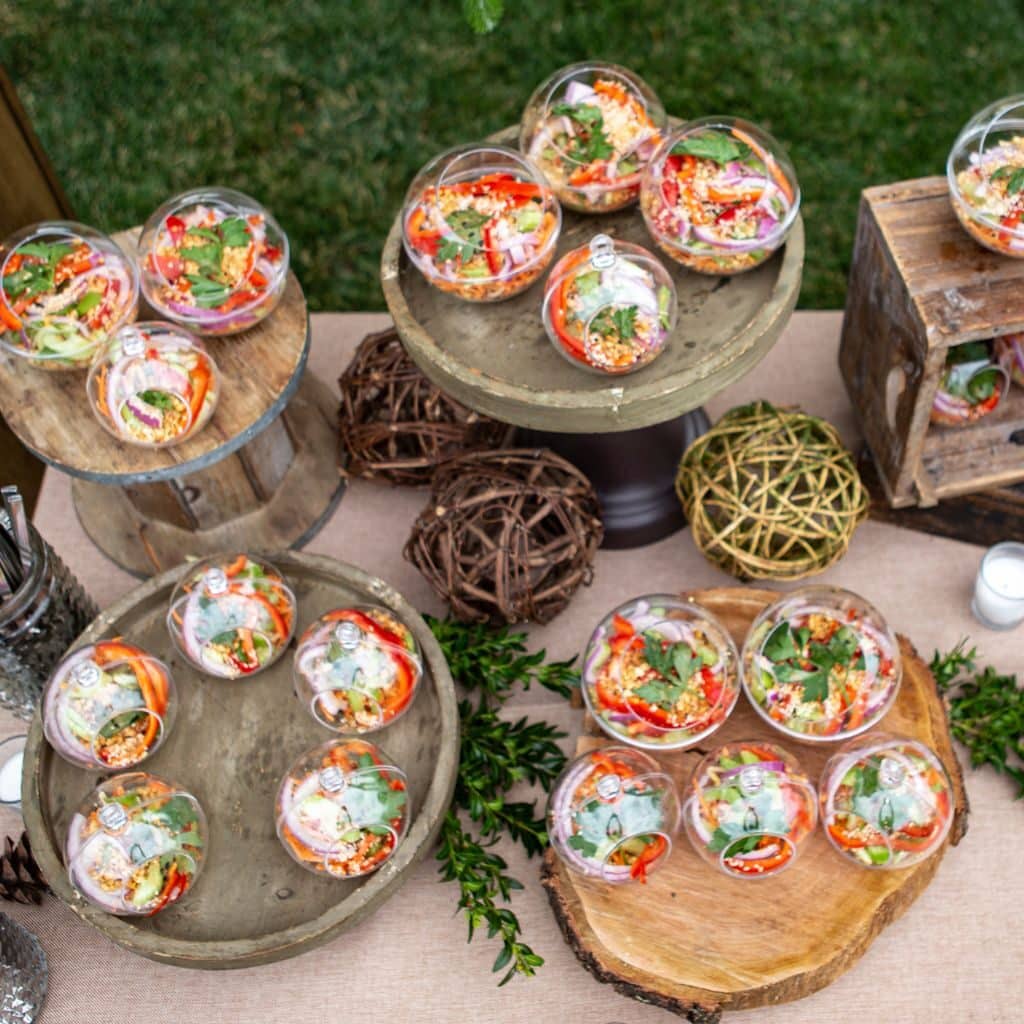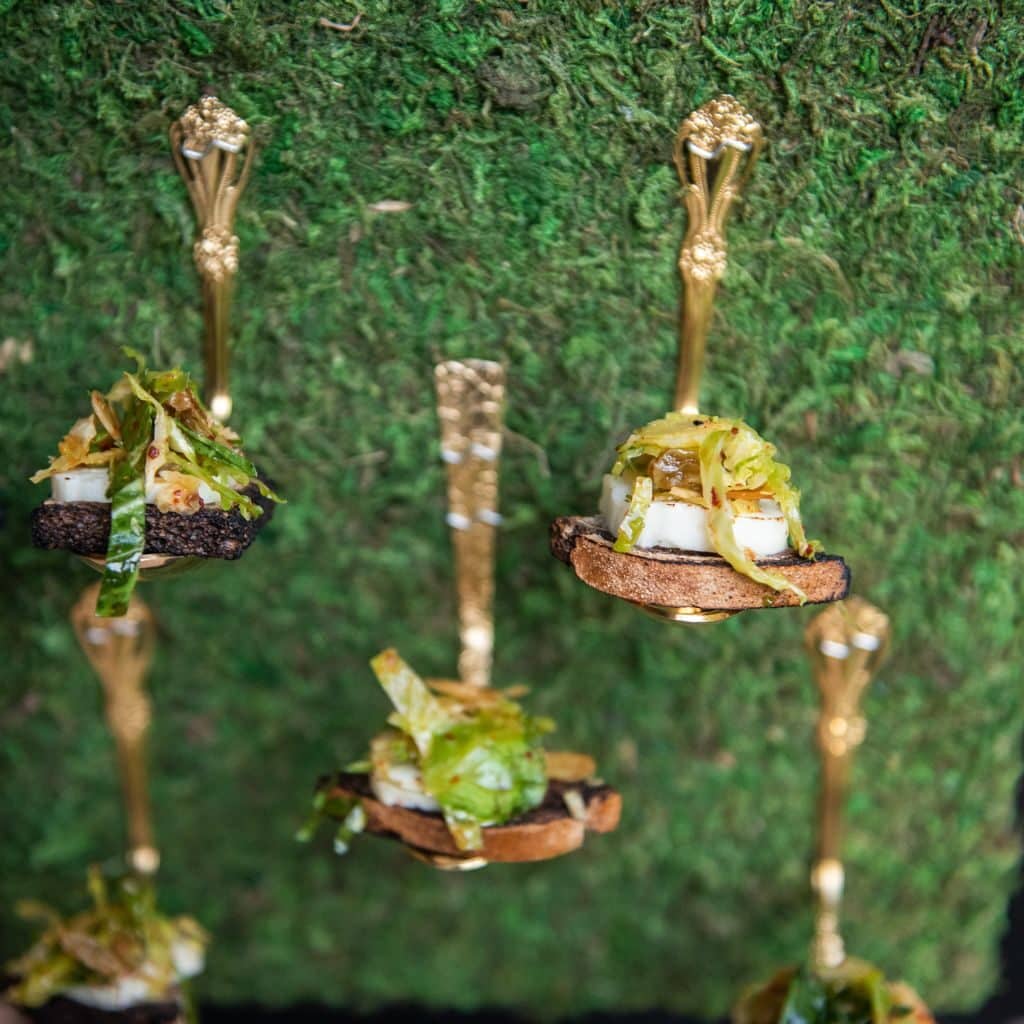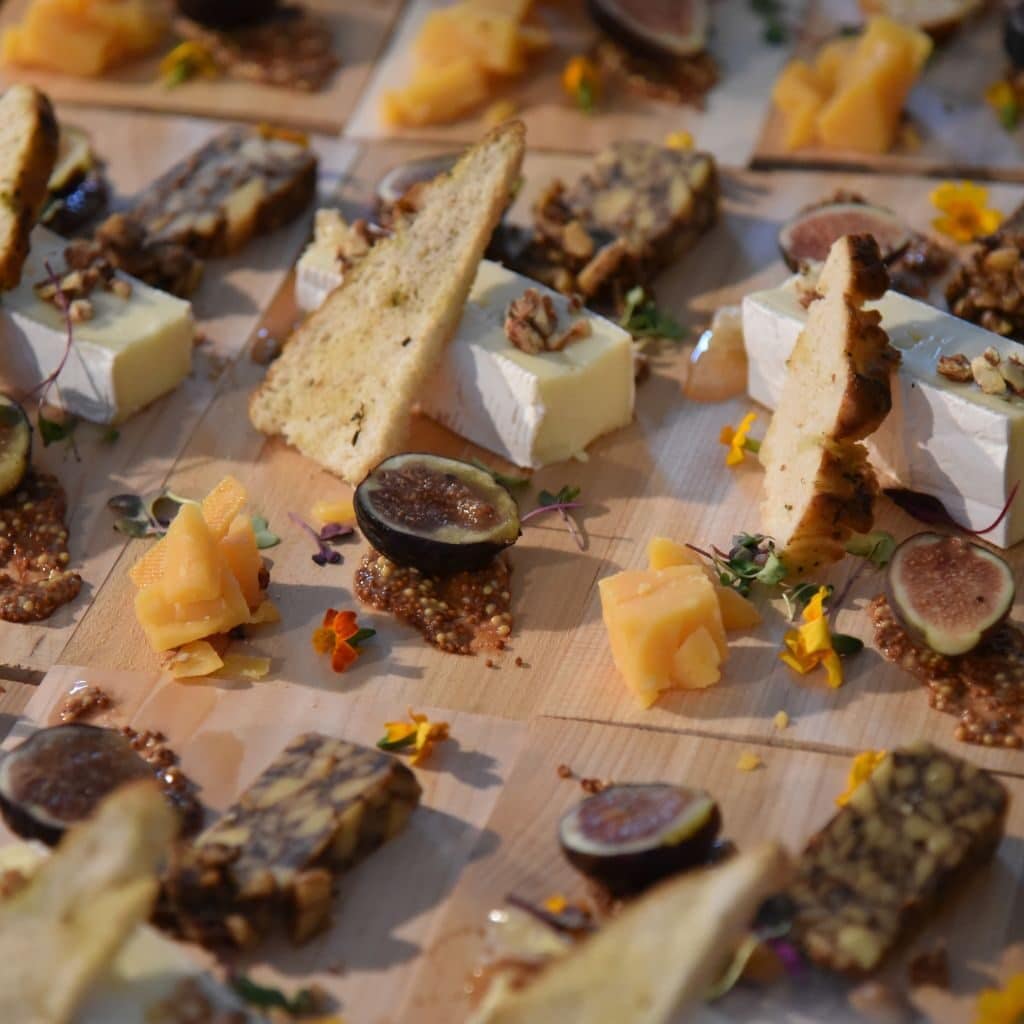 Toasts & Butter Board Station
Toasts and Butter Board Station
Composed Toasts  (Pick 3):
Roasted Sweet Potato, Fig, Goat Cheese, Honey Balsamic
Burrata, Pancetta, Roasted Tomato, Micro Arugula 
Ricotta, Shaved Brussel Sprouts, Almonds, Golden Raisins, Honey
Soppressata, Basil Pesto, Cream Brie, Roasted Red Pepper
Crab, Serrano Pepper, Lemon Aioli, Fennel Fronds
Butter Boards (Pick 1):
Maple Bacon Butter Board – Cinnamon Whipped Butter, Pennsylvania Maple Syrup, Applewood Bacon Crumbles, Candied Pecan Pieces, Smoked Salt, Micro Flowers – Served with Raisin Toast Points, Brioche Rolls and Wheatberry Crostinis
Steakhouse Butter Board – Whipped Chive Butter, Local Honey, Sliced Jalapenos, Pickled Red Onion, Lemon Zest, Cracked Black Pepper, Microgreens – Served with Corn Muffins, Sliced Sourdough, French Michette Rolls
Holiday Butter Board – Whipped Honey Butter, Cognac Dried Cranberries, Candied Orange Peel, Chopped Rosemary, Toasted Walnut Crumbs, Micro Flowers – Served with Pumpernickel Toast Points, Parker House Rolls and Cinnamon Chip Muffins
Glazed Donut Bread Pudding 
Bourbon Butter Sauce, Espresso Whipped Cream
DESSERT SKILLET STATION
Select (2) from the following:
Bananas Foster Bread Pudding Skillet
70% Cocoa Shavings, Cinnamon Rum Whipped Cream
Bourbon Chocolate Decadence Cake Skillet
Raspberry Balsamic Syrup, Lemon Swiss Meringue Chips

Espresso Brownie Skillet
Toasted Hazelnut Crumbs

Winter Cherry and Pear Cobbler Skillet
DESSERT BARS
Shortbread Toffee Cookie Bar
Bourbon Pecan Pie Bar
Peppermint Cream Bar 
Dessert Charcuterie Board
Large Marshmallows, Shortbread Cookies, Strawberries, Grapes, Dried Pineapple, Caramel Coated Popcorn, Chocolate Toffee Dipped Pretzels, Peppermint Granola Bark, Chocolate Dipping Sauce
Miniature Sweet Potato Pie with Toasted Marshmallow
Churro Bar
Sprinkles, Oreo Crumbles, Milk Chocolate Chips, Powdered Sugar, Milk Chocolate Sauce, Dark Chocolate Sauce, Raspberry Sauce, Whipped Cream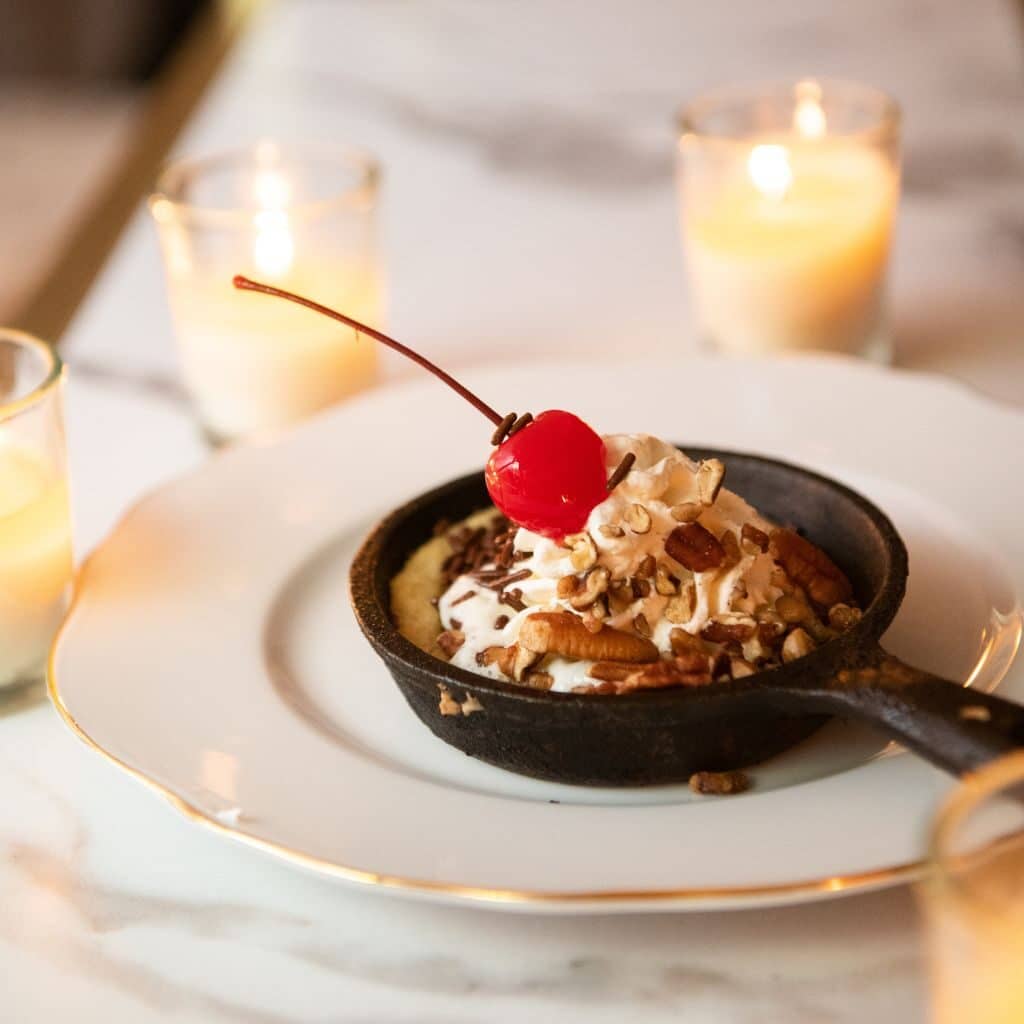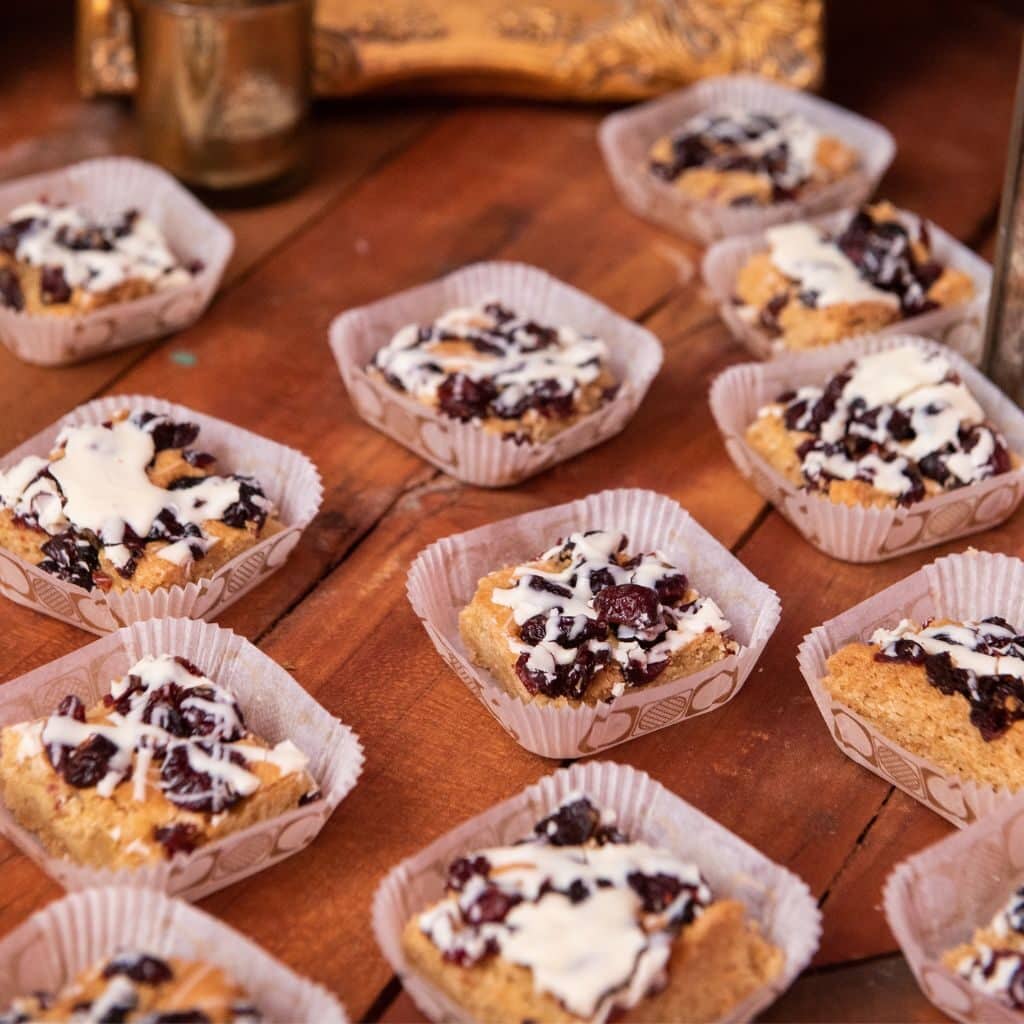 Dinner/Brunch Options: (served or stationed)
*tiered levels notated next to certain menu items below are related to cost investment – the higher tiered number represents a lower menu cost item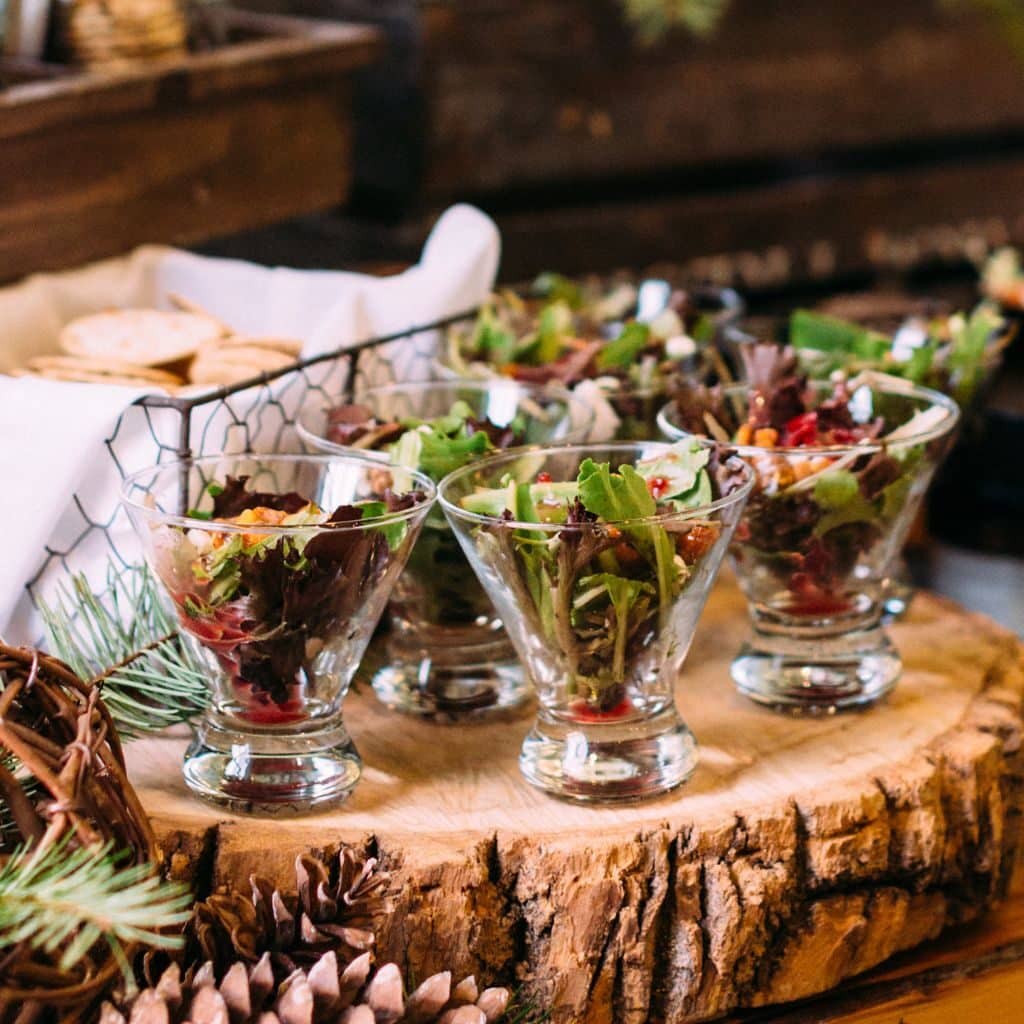 Traditional Dinner Rolls
Whipped Butter 
Choice of Salad 
Root Vegetable Salad
Chopped Kale, Sliced Granny Smith Apples, Shredded Carrots, Julienne Rutabaga, Scallions, Agave Citrus Vinaigrette
Winter Heirloom Salad
Tri Colored Carrots, Heirloom Cherry Tomatoes, Beets, Fresh Mozzarella, Cinnamon, Spiced Orange Vinaigrette
Asian Chopped Salad 
Chopped Romaine, Shredded Red Cabbage, Shredded Carrots, Capsicum, Mandarin Orange, Toasted Almonds, Chili Sesame Vinaigrette 
Choice of Vegetable
Southern Hot Corn (tier 3)
Red Bell Pepper, Pickled Jalapeno, Paprika, Grated Sharp Cheddar
Harissa and Maple Carrots (tier 2)
Honey Balsamic Brussel Sprouts (tier 1)
Shallots and Thyme 
Choice of Starch  
White Cheddar, Mozzarella and Pesto Mac and Cheese (tier 3)
Yukon Smashed Potatoes (tier 2)
Red Beet Tahini Sauce, Chervil
Butternut Squash and Brussel Sprout Risotto (tier 1)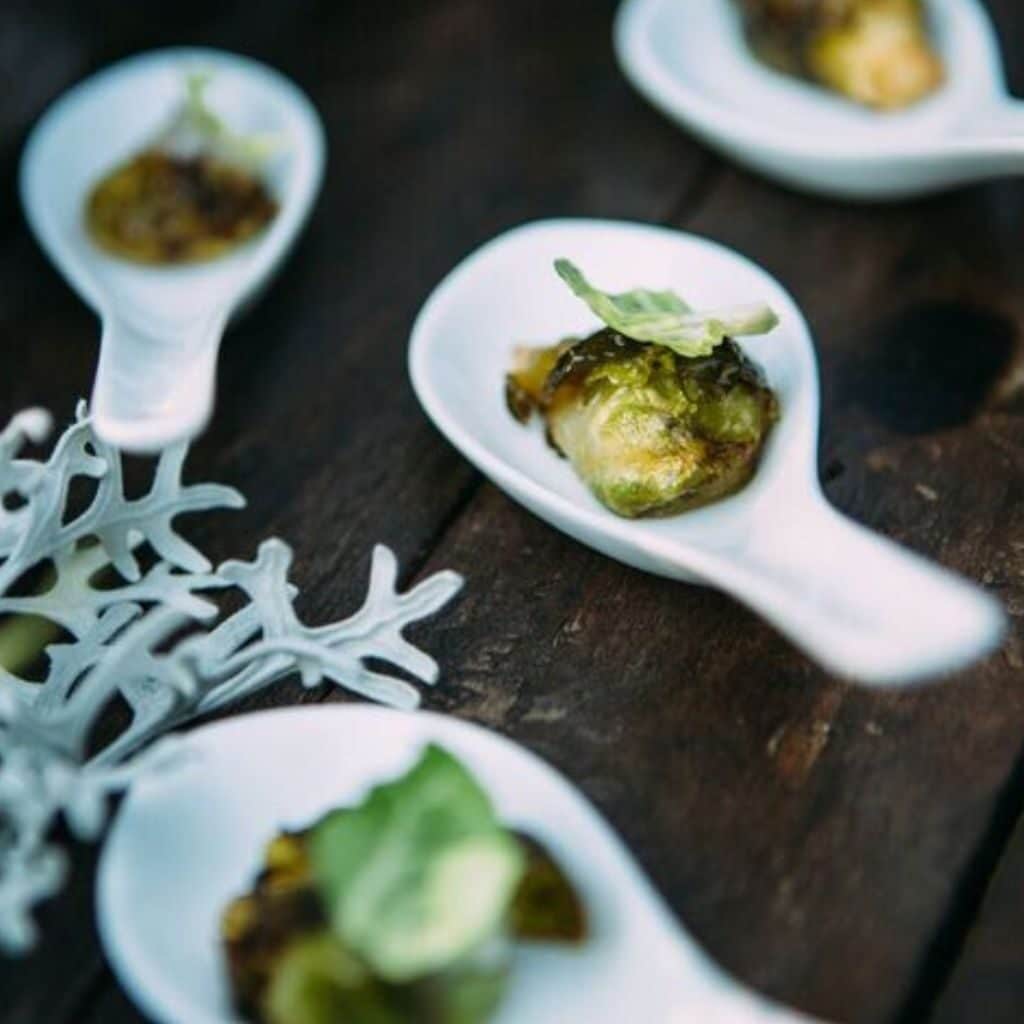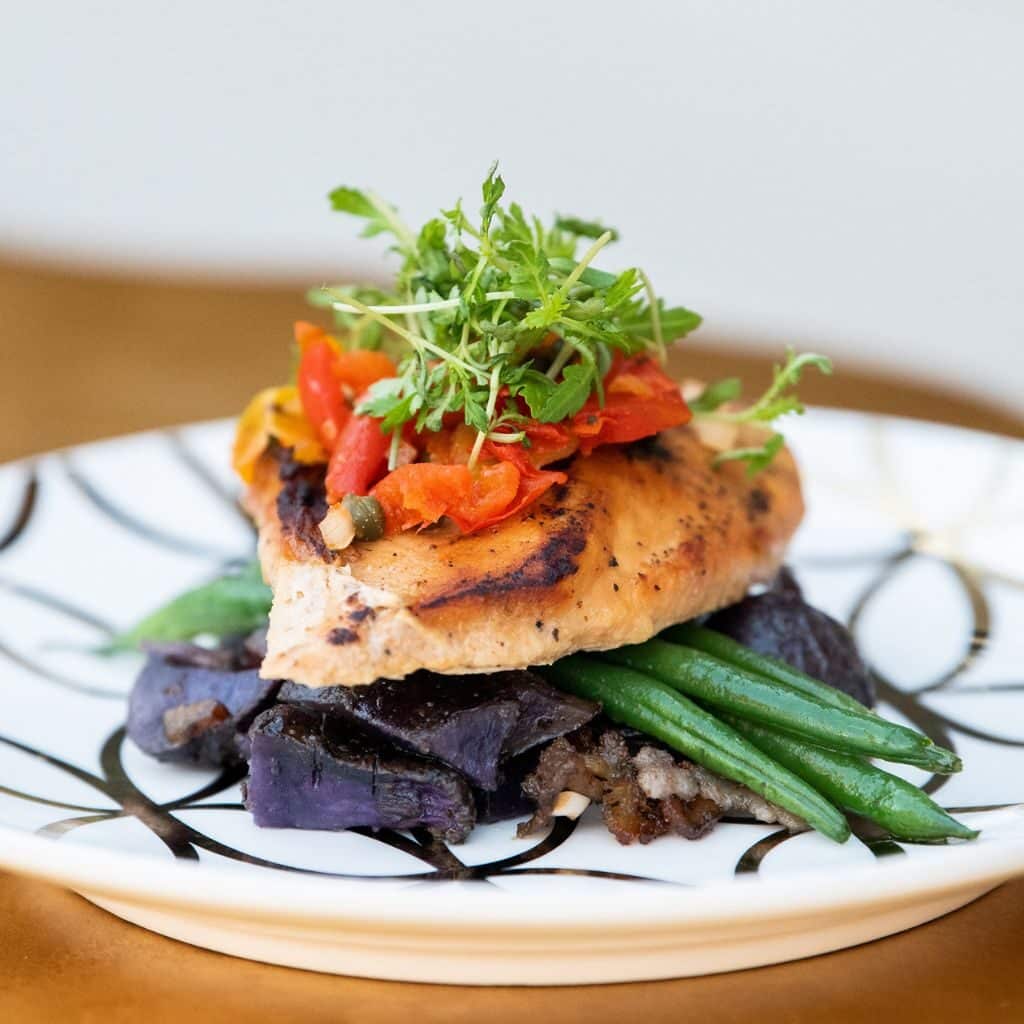 Choice of Protein(s) 
Smoked Ham (GF, NF, DF) (tier 4)
Whiskey Maple and Cinnamon Glaze
Pan Seared Herb Chicken Breast (GF, NF) (tier 3)
Porcini and Caramelized Shallot Brandy Cream
Pomegranate Molasses Salmon (tier 2)
Short Ribs (GF, DF, NF) (tier 1)
Orange Scallion Gremolata
Choice of Dessert: 
Cranberry Cheese Pie 
Old Fashioned Chocolate Pie
Holiday Party Planning Guide
We know one of the main ingredients to a successful holiday celebration is having flavor-packed food for you and your guests – which, we've got you covered on with our globally-awarded delectable eats.  However, planning your perfect holiday party doesn't start and end with the menu (although our chefs may argue otherwise).  
To help simplify your holiday party-planning to-do list, our team of talented event magic makers has created a simple event planning guide to help make the journey of planning your joyful holiday party as stress-free as possible!
1. Confirm Holiday Party Event Details
Confirm your intended party date, anticipated guest count, and experience you want your guests to receive.
2. Pick a party setting to be able to deck the halls
Choose the perfect setting for your holiday or winter celebration!
Whether at your company office, your home's backyard, or a local event venue, our Event Specialist Team can help guide you through the logistical flow of your event no matter where you choose to celebrate.  We've also worked at countless event venues across the Central Pa. region so we can help offer different location options that align with your vision.  If you're searching for some initial recommendations, you could check out some of our exclusive venues (The Bond in York, Elizabeth Furnace in Lititz, Historic King Mansion in Harrisburg, and The Willows at Ashcombe Mansion in Mechanicsburg).
3. Create a flavor-packed menu
Chat about the menu with one of our JDK Event Specialists (your personal holiday cheermeister).
Our team is versed in all things food and wants to make sure your menu is a perfect reflection of your palate and cuisine preferences.  From getting to know your favorite restaurants or family recipe must-haves, our Event Specialist team can create a custom menu for your event or help guide you through a variety of our most popular holiday menu items that will be sure to add a flurry of flavor to your celebration. 
4. Think about fun holiday cocktails/mocktails
Will your holiday party need bar and beverage services?
A fun way to add a festive and personal touch to your winter or holiday event is with adding a signature cocktail or mocktail!  Our team is able to provide this service for you with our professional TIP or RAMP certified bartenders and non-alcoholic mixer package options.  We are happy to provide inspiration and suggestions with some tried, true, and tested holiday favorites.
5. Confirm ample seating for your guests
Does your holiday party require additional tables, chairs, or linens?
Our team can help take care of this for you as well with any specialty rental needs you may require for your holiday celebration. 
6. Spruce up your party with custom details or fresh floral design
Have you been thinking of incorporating any custom or personalized design details to your event?
Our JDK Floral + Design Team loves getting creative with you to make your event extra special and unique to your vision.  From fresh flower centerpieces to fun photo backdrops or hanging balloon installations, they can help take your winter or holiday event to the next level!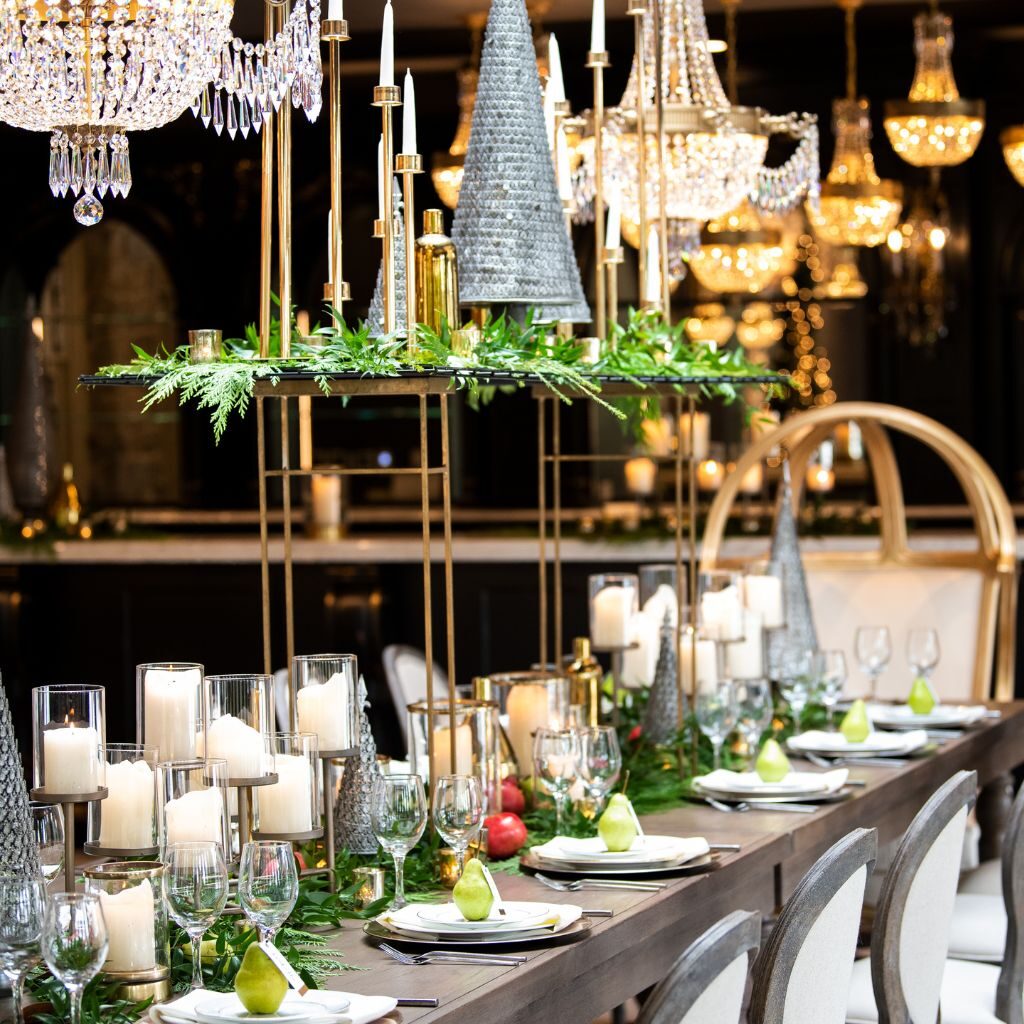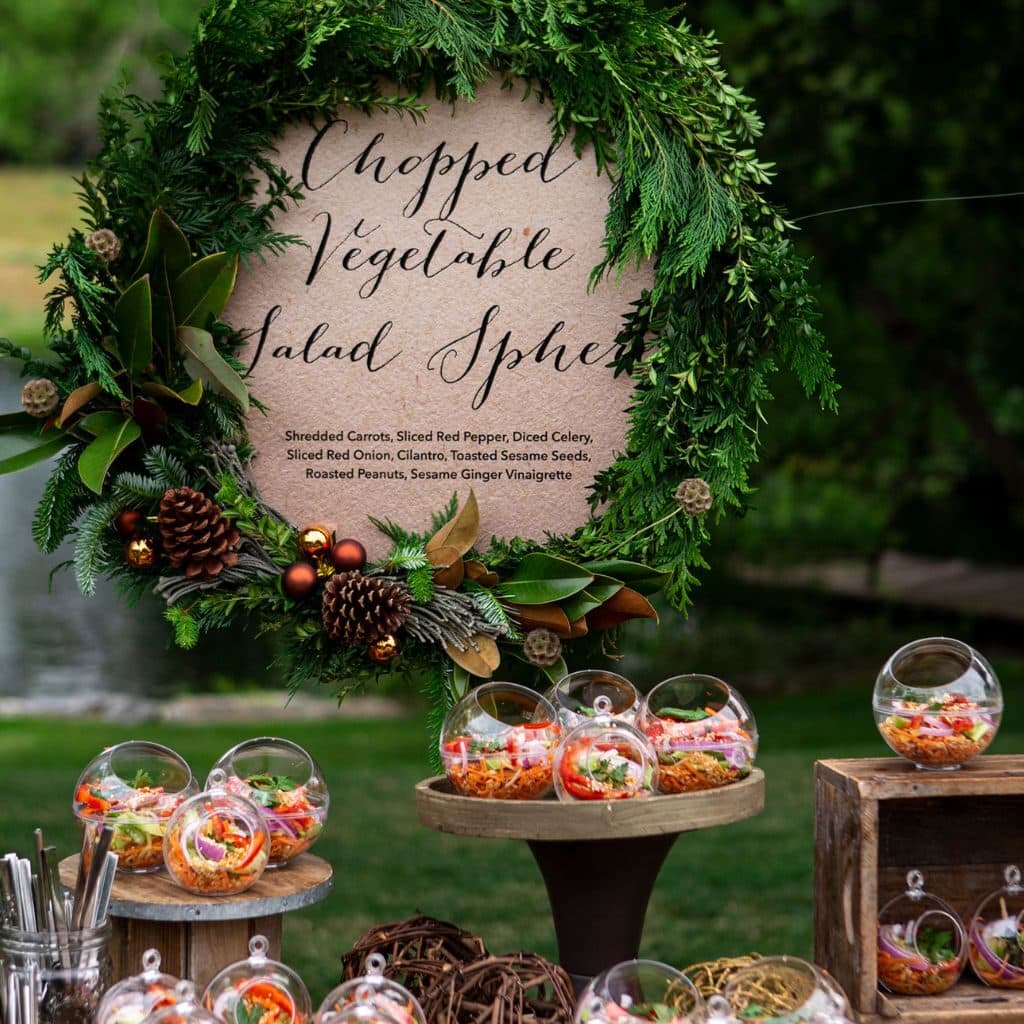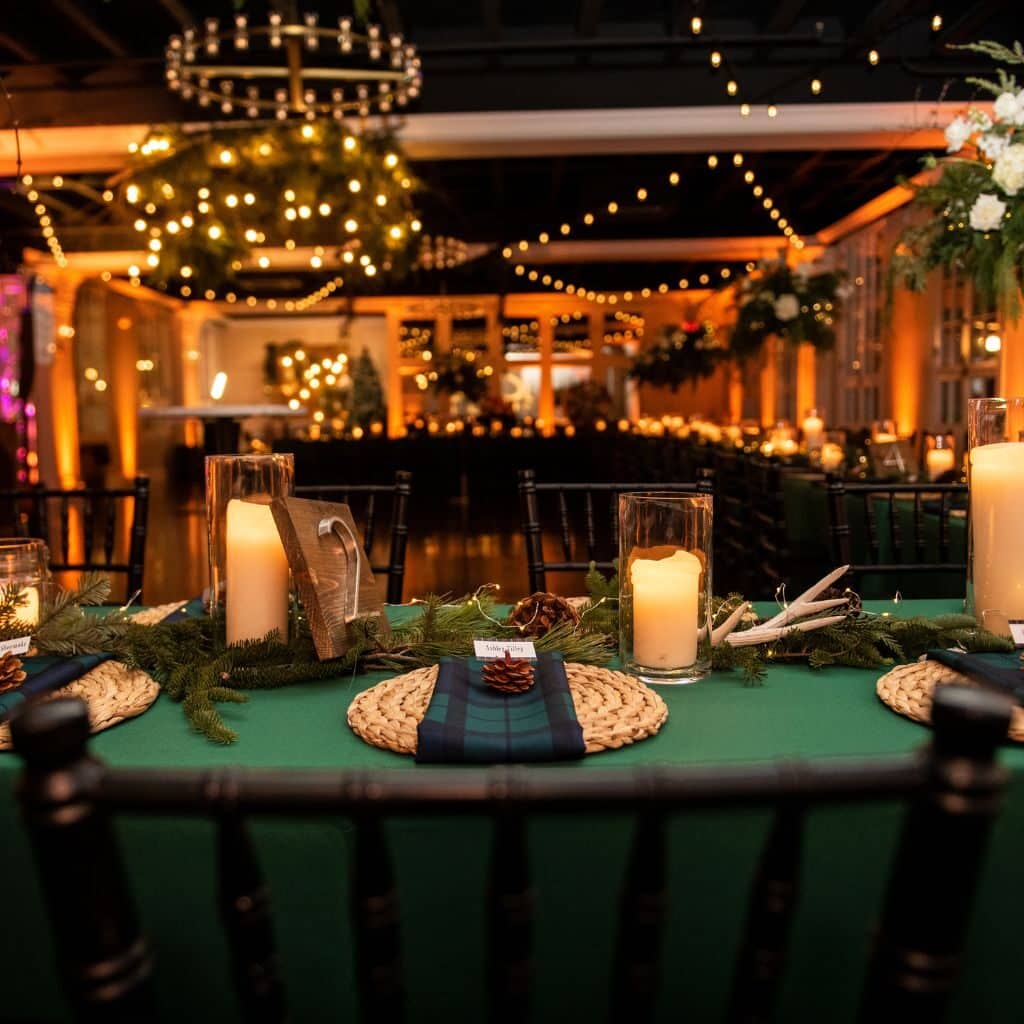 deck the halls with our floral + Design Team
Show off your holiday style!  The JDK Group hosts our own in-house floral department and design team prepared to deck the halls for your holiday celebration! Choose from one of our specialty themed holiday looks or have us ring in your holiday season with a custom creation specific to your special celebration. From seasonal home decorating and holiday centerpieces to appropriately themed décor, linens, and lighting – our team of design specialists have all the details and design services to keep your season merry and bright!
start planning your holiday party today!