Make staying #HomeForTheHolidays Enjoyable With The JDK Group!
Winter will be here before we know it, and we are welcoming the joyful season while channeling all the cozy feelings. This year, spend the holidays in the comfort of your own home while we brace the bitter weather to bring the celebrations to your front door!  We've developed the best holiday catering and design options to make your holiday season one to cherish for years to come.
The #HomefortheHolidays season is the best time to celebrate cherished traditions, dig into your favorite dishes, and relive the best memories with all the important people in your life. Whichever traditions you celebrate during the holidays, let us create the perfect seasonal atmosphere!
Our event specialists, expert chefs, and innovative floral and design teams create a stress-free planning experience so you can relax, stay comfortable, and truly cherish the time with your loved ones.
Call us at (717) 730-4661 or fill out our form today to make being #HomefortheHolidays your new favorite tradition!

CHERISHED HOLIDAY TRADITIONS COMING TRUE
Customization is our specialty. From incorporating grandma's cherished authentic holiday recipes to crafting fun hors d'oeuvres named after your company's core values, we specialize in making your event uniquely-you.  Our award-winning event specialists, chefs, designers, and service staff thrive on creating a personal connection with you so your event will showcase your authentic style and personal preferences.
We cater to all dietary restrictions and love incorporating ethnic cuisines.  Perhaps holidays around the world could be a new theme for your corporate holiday party!  No matter the theme or style of service, we will make your festivity one that will be cherished for years to come.  Let our team take care of every detail so you can focus on what's important this season – being present and having fun in making new holiday memories with your family, friends, and coworkers.
The following sections provide new holiday catering and design suggestions displayed to spark inspiration for options you can incorporate into your upcoming holiday party!
Keep scrolling to see our holiday catering options or Download The JDK Group's Holiday Catering and Design Menu Here.



Honey Habanero Seared Scallop
Sweet Pea and Mint Puree, Micro Marigold
Cheeseburger Dumpling
Ground Sirloin, Aged Cheddar, Caramelized Onion, Cherrywood Smoked Bacon, Kimchi Mayo
Wild Mushroom and Shallot Pastry
Oyster, Shiitake, and Cremini Mushroom
Mexi Street Corn Jack Cake
Braised Short Rib, Smoked Paprika Cream, Lime Zest
Brussel Sprout Toast
Shaved Brussel Sprout Salad, Rye Toast, Torched Halloumi, Golden Raisins, Smoked Almonds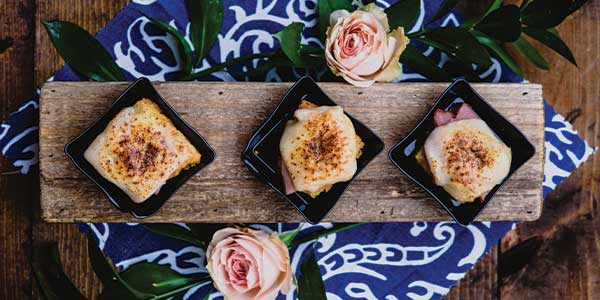 Herbed Waffle Bite
Buttermilk Fried Chicken, Chipotle Butter, Strawberry Maple Syrup
Radish and Beet Bite
Daikon Radish, Red Beet Cream, Sesame Seed, Chervil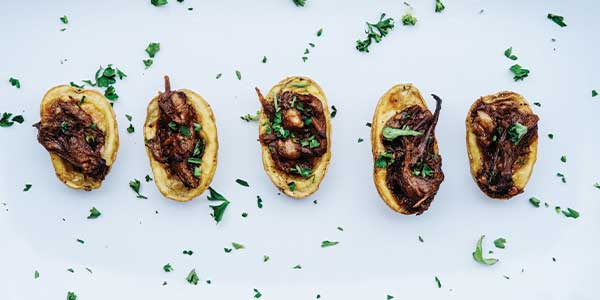 Lamb Lollipop
Fennel Agrodolce
Duck Prosciutto
Spiced Ricotto, Fig Jam, Multigrain Crostini
Sriracha and Lemongrass Butter Shrimp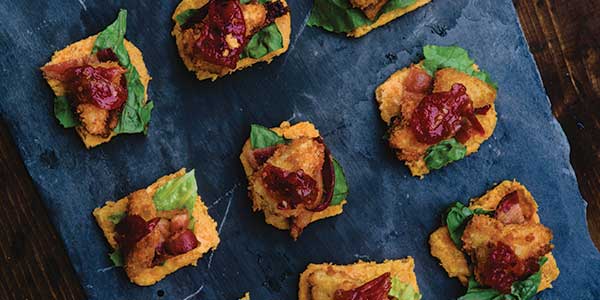 Veal Meatball
Porcini and Caramelized Shallot Brandy Sauce
Quinoa Cauliflower Meatball
Cranberry BBQ Glaze
Chicken Cordon Bleu
Fried Chicken, Smoked Ham, Gruyere, Parmesan Dijon Sauce
Salmon Poke Taco
Salmon Poke, Pickled English Cucumber, Red Cabbage, Spicy Unagi Mayo, Wonton Taco Shell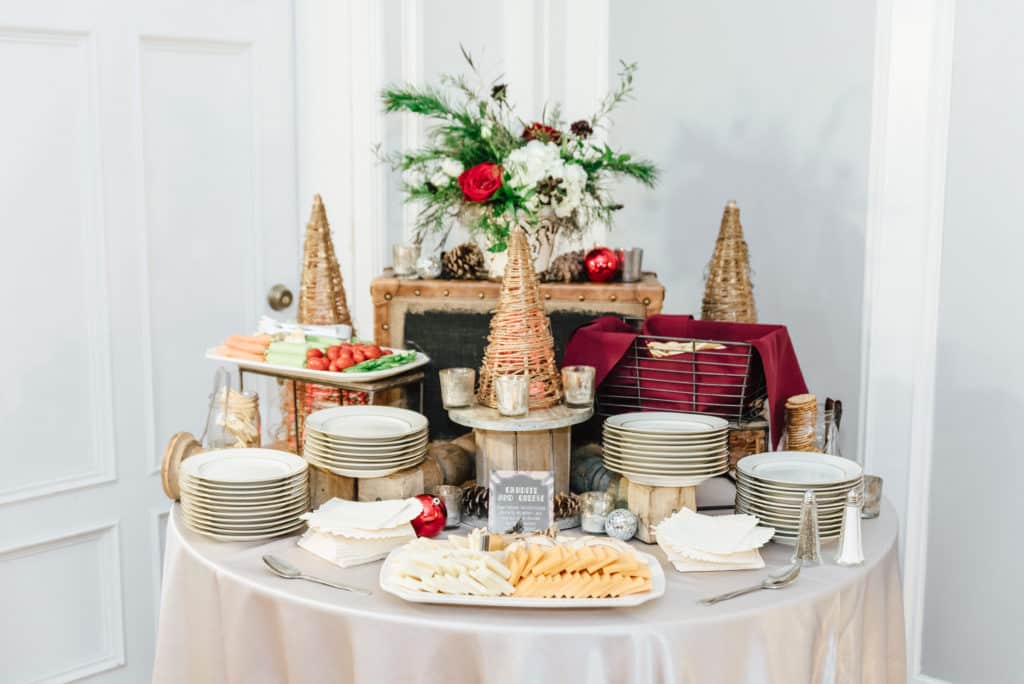 Light Station Options 
Artisan Cheese Display
Aged Cheddar, Lancaster Bleu, Drunken Goat Apple Raisin Chutney, Dried Black Mission Figs, Maple Acorn Squash Wedges, Naan Chips and Flatbread Crackers
Charcuterie Display
Salami Tuscano, Spicy Calabrese, Prosciutto di Parma, Pimento Cheese Peppadew Peppers, Mediterranean Olive Blend, Honey Maple Walnuts, Multigrain Ciabatta Crostinis, Grissino
Dips, Spreads, Crisps, and Crudite
Tender Herb Cashew Dip, Garlicky Tarragon Yogurt Dip, Carrot and Raisin Hummus, Smoked Salmon and Chive, Spicy Pimento Spread, Assorted Crisp Vegetable Crudite, Ciabatta Crostini, and Pita Crisps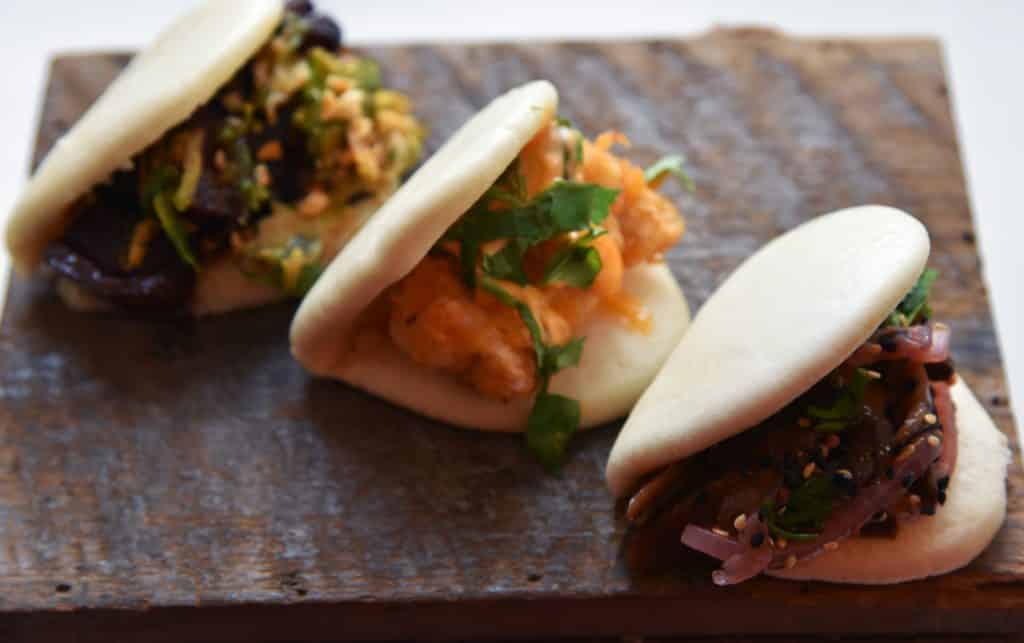 Heavy Station Options
Tossed Salad Bowls – Select (2) from the following choices:
Brussel Sprout Salad


Shaved Brussel Sprouts, Aquaponic Red Vein Sorrel, Pomegranate Seeds, Toasted Almonds, Shaved Parmesan, Fresh Lemon, and Olive Oil Dressing

Quinoa and Kale Salad


Quinoa, Tuscan Kale, Roasted Winter Squash, Dried Cranberries, Pecans, Crumbled Feta, Aged Balsamic Vinegar, Olive Oil

Cauliflower and Radicchio Salad


Shaved Cauliflower, Radicchio, Honey, Pistachios, Golden Raisins, Arugula, Aleppo Pepper
Bao Buns – Select (3) from the following choices:
Hoisin Glazed Mushroom


Hoisin Glazed Mushrooms, Pickled Red Onion, Chopped Cilantro, Toasted Sesame Seeds

Hot Chicken Katsu


Hot Chicken Katsu, Half Sour Pickles, Cilantro, Sriracha Mayo

Pork Belly


Crisp Pork Belly, Chopped Vegetables, Chopped Peanuts, Sesame Ginger Glaze

Gochujang Shrimp


Crispy Gochujang Shrimp, Banh Mi Slaw

Korean BBQ Brisket


Shredded Korean BBQ Brisket, Chopped Green Onions, Pear Slice
Ramen Bowls
Kakuni, Soboro, Enoki Mushrooms, Shredded Leeks, Shishito Peppers, Pea Shoots, Rainbow Carrots, Cabbage, Lime Wedges, Mushroom Broth, Beef Broth, Soba Noodles
Sliders – Select (3) from the following choices:
Smoked Beet Reuben


Alderwood Smoked Salted Golden Beets, Gruyere, Sauerkraut, Russian Dressing, Wheat Roll

Stout Braised Short Rib


Gorgonzola Aioli, Caramelized Sweet Onion Relish, Rustic French Roll

Grilled Pesto Chicken


Goat Cheese, Tomato Confit, Aged Balsamic Reduction, Leaf Lettuce, Pretzel Bun

Roasted Turkey


Cherrywood Smoked Bacon, Shaved Red Onion, Baby Arugula, Cranberry Mustard, Telera Roll

Blackened Cod


White Balsamic Radicchio Slaw, Chipotle Mayo, Brioche Roll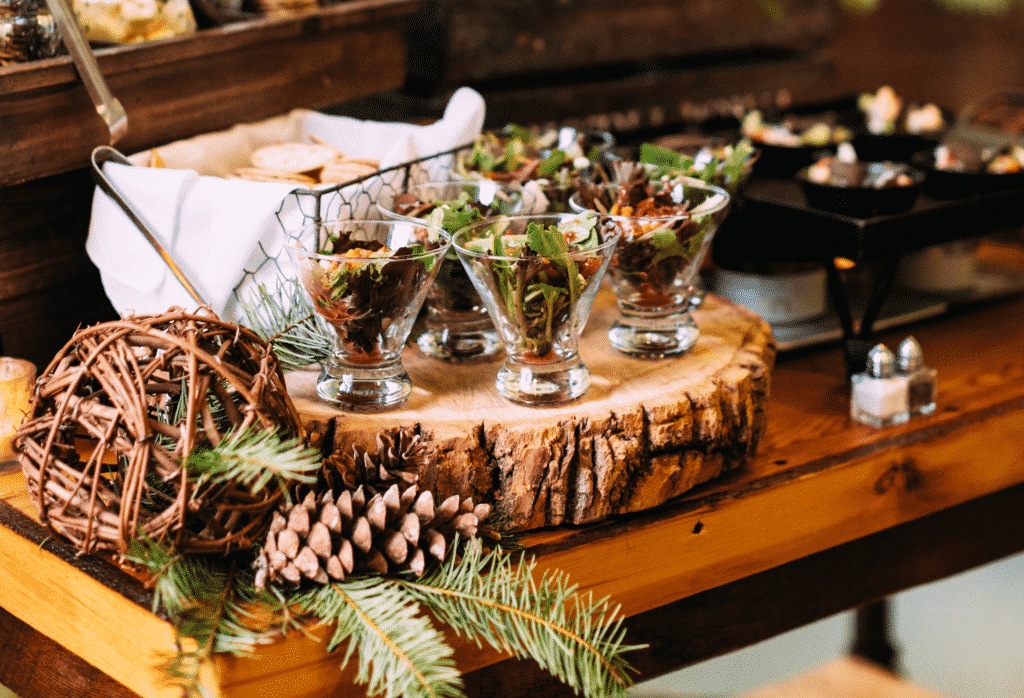 Interactive Food Stations
Made to Order Pasta Station
Fresh Made Pasta
Spinach Fettuccini, Radiatori, 3 Cheese Ravioli
Sauces
Marsala Wine, White Wine Garlic, Filetto Di Pomodori
Vegetables and Enhancements
Sauteed Mushrooms, Broccoli, Roasted Tomatoes, Shaved Parmesan, Red Pepper Flakes, Fresh Basil, Oregan, and Parsley, Cracked Pepper Mills
Protein Additions
Chicken Breast, Chopped Clams, Miniature Braciole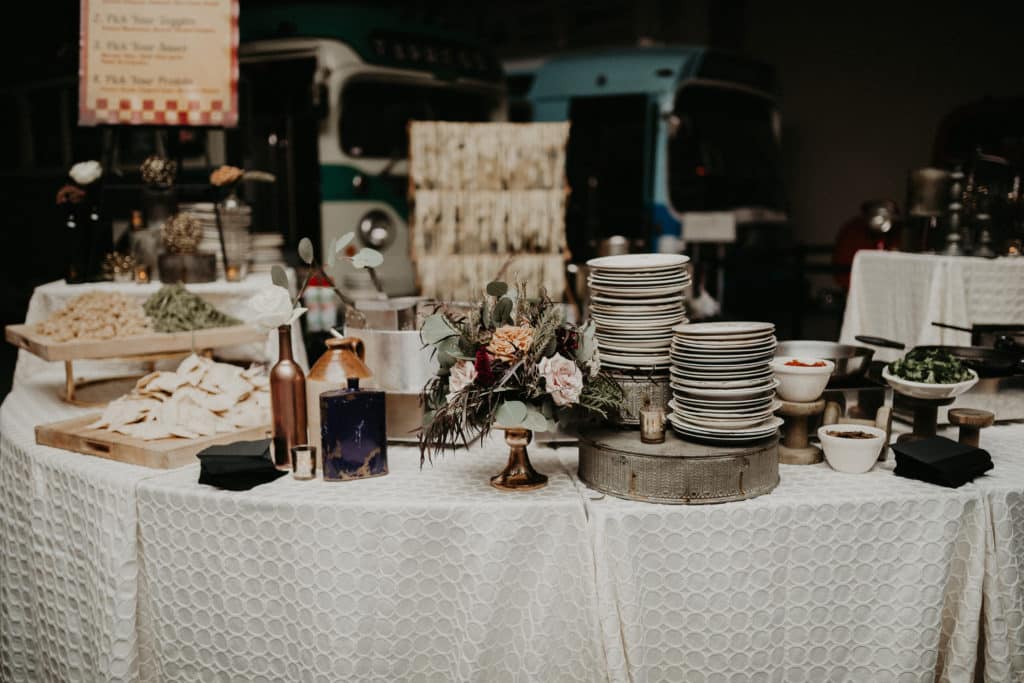 Carved to Order Meats
Select (1) from the following choices:
Tomahawk Ribeye
Accompanied with Horseradish Pickles, Harrisa Lime Cream, Black and Blue Mushrooms
Corned Beef Brisket
Accompanied with Emerald Mustard Sauce, Cabbage Salad, Potato Pancakes
Applewood Smoked Ham
Accompanied with Spicy Pineapple Spread, Garlic, and Sesame Marinated Beans, Bourbon Glazed Pecans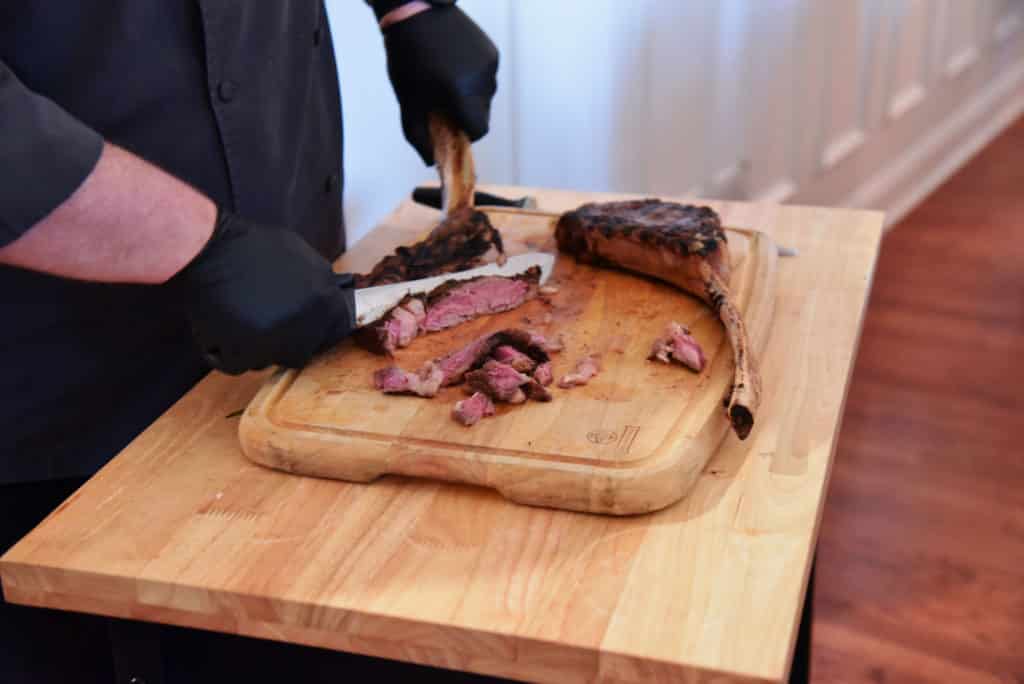 Salad Options
Select (1) from the following choices:
Grilled Caesar Salad


Roasted Whole Hearts of Romaine Lettuce, Fresh Grated Parmesan Cheese, Roasted Cherry Heirloom Tomatoes, Crisp Bacon Pieces, Housemade Croutons, Creamy Caesar Dressing

Baby Arugula Salad


White Bean Hummus, Pickled Watermelon Radish, Roasted Cherry Heirloom Tomatoes, Sunflower Oil

Seasonal Salad


Dandelion Greens, Aquaponic Pea Shoots, Shaved Chioggia Beets, Tomato Confit, Polenta Croutons, Fennel Frond Vinaigrette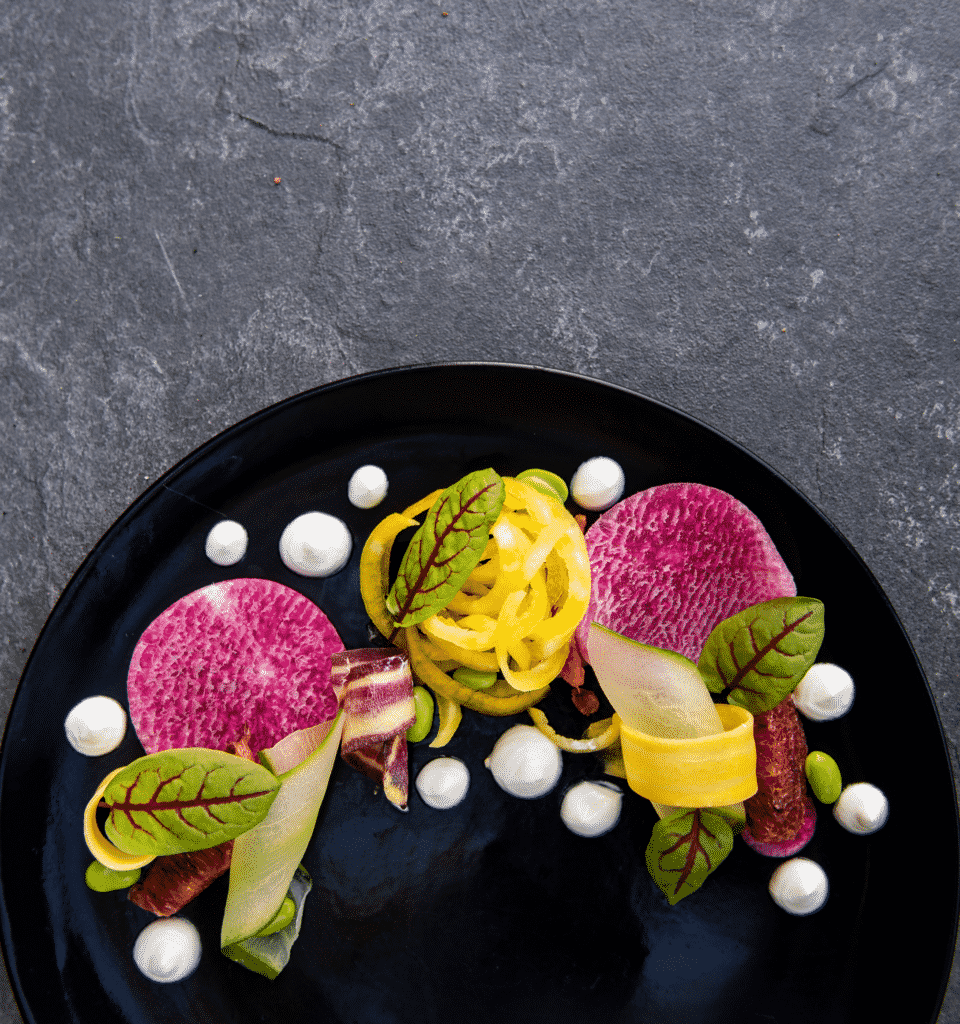 Traditional Holiday Dinner
Traditional Dinner Rolls
With Butter
Traditional Carved Ham OR Roast Turkey Breast
Twice Fried Baby Garlic Dutch Potatoes, Haricot Vert, White Bean Medley
Festive Winter Feast
Fresh Artisan Rolls
With butter
Pan-Seared Chicken
Porcini and Caramelized Shallot Brandy Cream, Peppercorn Yukon Mash, Root Vegetable Tagine
Blackened Orange Roughy
Pineapple Brulee, Mediterranean Spiced Farro, Sweet Potato and Rutabaga Puree
Happy Valley Stour Braised Short Rib
Truffled Black-Eyed Pea Mash, Cider Roasted Acorn Squash
The More The Merrier
Fresh Artisan Rolls
With butter
Petite Filet
Smoked Lobster Cream, Potato Dauphinoise, Duck Fat Roasted Heirloom Carrots
Seared Halibut
Honey Miso Glaze, Toasted Almond, and Fuji Apple Jasmine Rice, Sous Vide Szechuan Haricot Vert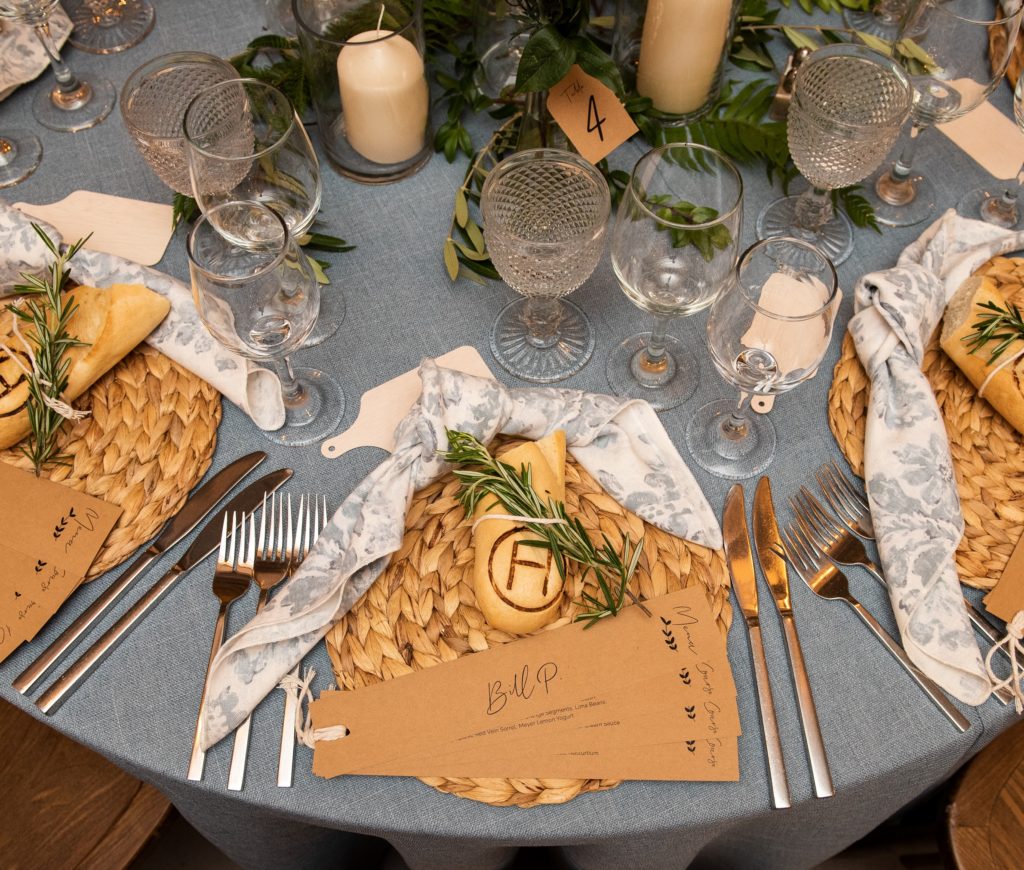 Cookie Jars
Cardamom Snowballs, Dark Chocolate Peppermint Bark, Red Velvet Krinkles, Spiced Molasses
Holiday Bite Assortment
Select (3) from the following choices:
Dulce de Leche Pastelitos


Miniature Puff Pastry Squares filled with Dulche De Leche Filling

Cranberry Blondie Bars


Blonde Shortbread, Dried Cranberries, Almonds, White Chocolate Drizzle

Golden Rum Cakes


Yellow Bundt Cake Bites, Vanilla Bean Sugar Glaze

Cherry Pecan Cheesecake Squares


Graham Cracker, Cheese Cake, Cherry Pecan Topping

Peppermint Chocolate Truffle


Semi-Sweet Chocolate Ganache, Milk Chocolate, Crushed Candy Cane
Cookie Skillets
An assortment of Cookies baked in a Miniature Skillet, Served Warm for a Soft and Gooey Enjoyment! Cookie Assortment can include Sugar, Chocolate Chips, and Turtle.
Guest Choice of Toppings to Include:
Whipped Cream, Chocolate Sprinkles, Chopped Pecans, Crushed Reeses Cups, Cherries 
Miniature Jars
Carrot Cake


Spice Cake Crumble, Golden Raisin Compote, Cinnamon Cream Cheese, Candied Carrots

Sweet Potato Panna Cotta


Cinnamon Toast Croutons, Cranberry Coulis, Honey Maple Walnuts

Lushes Candy Cane


Sugar Cookie, White Chocolate Mousse, Candy Cane Pieces
Dessert Grilled Cheese
Caramel Apple


Caramelized Apples, Irish Porter Cheddar, Raisin Bread

Blueberry French Toast


Blueberry Compote, Maple Syrup, Brie Cheese, Brioche Bread

Chocolate Espresso


Chocolate Ganache, Powdered Sugar, Espresso Mascarpone, Pound Cake
Holiday Design, Décor, and Floral Options


Show off your holiday style!  The JDK Group hosts our own in-house floral department and design team prepared to deck the halls for your holiday celebration! Choose from one of our specialty themed holiday looks or have us ring in your holiday season with a custom creation specific to your special celebration. From seasonal home decorating, fun interactive wreath-making events, and holiday centerpieces to appropriately themed décor, linens, and lighting – our team of design specialists have all the details and design services to keep your season merry and bright!

Upcoming Holiday Design Events:
Wreaths & Wine
Get in the holiday spirit by sipping on wine and enjoying an array of cheeses – all while you create your own 18″ festive wreath! Our in-house Floral & Design Team experts will help guide you through the wreath-making process to ensure yours comes out exactly the way you envisioned. Purchase your ticket here!
Merry Market at The Bond
Join us at York Flee's first-holiday collaboration with The Parliament Arts Organization for the Merry Market located at one of our exclusive venues, The Bond where we will be selling various holiday home enhancements. Including wreaths, sprays, centerpieces, and more! 

Learn more here.

Christmas Market at Italian Lake


The Christmas spirit is returning to Harrisburg for the 3rd annual Tremendous Christmas at Italian Lake. The first 2 years were major successes, bringing the region together for a weekend of joy, celebration, and twinkling Christmas nostalgia. We will be selling various holiday home enhancements including wreaths, sprays, centerpieces, and more!

Learn more here.