Make this wonderful time of year one to remember with a unique holiday party theme! Dash away from the cliche ugly sweaters and gingerbread houses, and host a new party theme fun for everyone. The JDK Group comprised a list of 6 Holiday party themes to help celebrate the end of the year with a perfect night for friends and family.
1. The Nightmare Before Christmas Holiday Party Theme
Holiday parties don't have to be all jolly and bright, instead, make it spooky with a theme from one of Tim Burton's timeless classics! Have your guests arrive in Halloween costumes and make jack o' lanterns instead of cookies and gingerbread houses. If you wish, you can combine the best of both holidays to make for a unique and fun party for every guest. Our in-house Floral & Design Team can take care of all the decorating so the only thing you need to worry about is what costume you'll wear!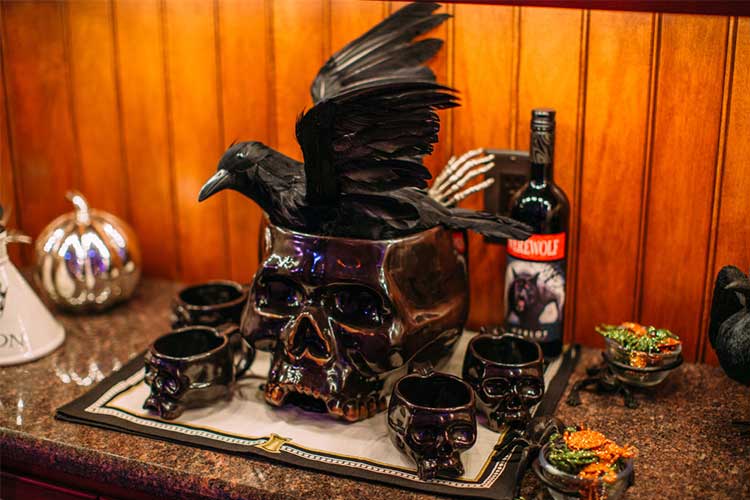 Seth Nensteil Photography
2. Holiday Music Karaoke Night
Going door to door singing Christmas carols might not be everyone's cup of cocoa, but let that be an inspiration for this holiday party theme. By hosting a holiday karaoke night you can enjoy watching your friends and family sing their hearts out to Mariah Carey and Michael Buble! If you want to add a competitive aspect to this theme, gather prizes for the best performances of the night. We've gathered a couple of classics on our #HomeForTheHolidays Spotify Playlist to help get you started.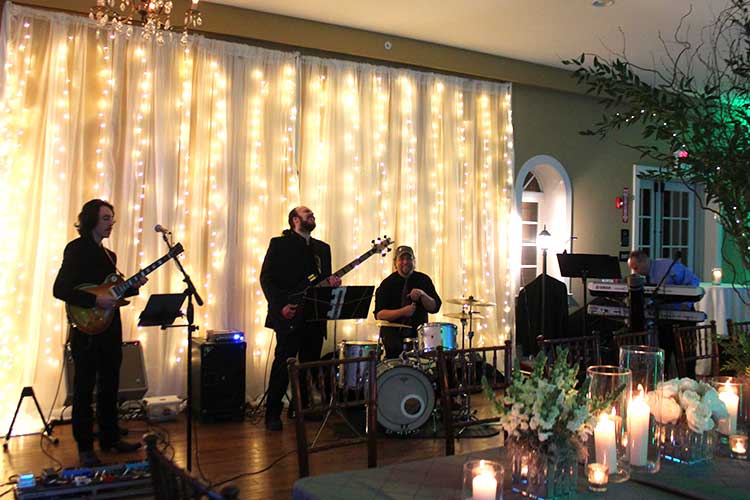 3. Holiday Murder Mystery Party
Add some mystery to the merry season by hosting a holiday-themed murder mystery party! Have your guests dress up for a specific era or genre and give each guest an individual character identity at the beginning of the event. Guests will stay in character and work together to solve a fictitious murder which occurs during the party.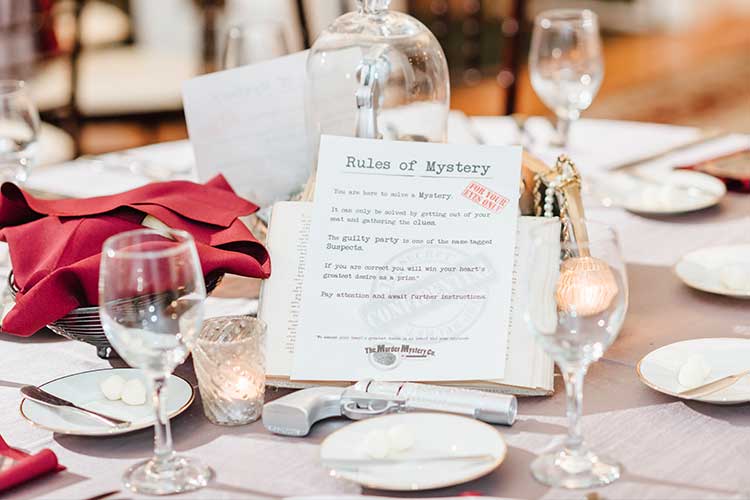 Lindsey Ford Photography
– If you're considering having this be your theme for your next Holiday party, The JDK Group recommends the Murder Mystery Company to help create your murder mystery event. We provide the food and atmosphere while the Murder Mystery Company provides the entertainment!
4. Reverse Christmas in July Party
Similar to the Nightmare Before Christmas theme, change up the usual Christmas cliches with beach balls and margaritas! Have your guests arrive in beach-wear under their winter coats and flower necklaces to get the party started. Play upbeat summer tunes and enjoy warm BBQ food to switch it up for your holiday party this December.
5. Willy Wonka Party
Whether or not you consider Willy Wonka and the Chocolate Factory a Christmas movie, it sure makes for a fun holiday party theme. Decorate your house with colorful candy and props to bring out the spirit of Wonka's world. Each invitation to your party could be a chocolate bar with a golden ticket. If you are really committed, you could even dress up like an oompa loompa to greet your guests! This theme leaves a lot of room for creativity on the food (and drinks) which allows our innovative culinary experts to use their artistic skills to impress you and your guests.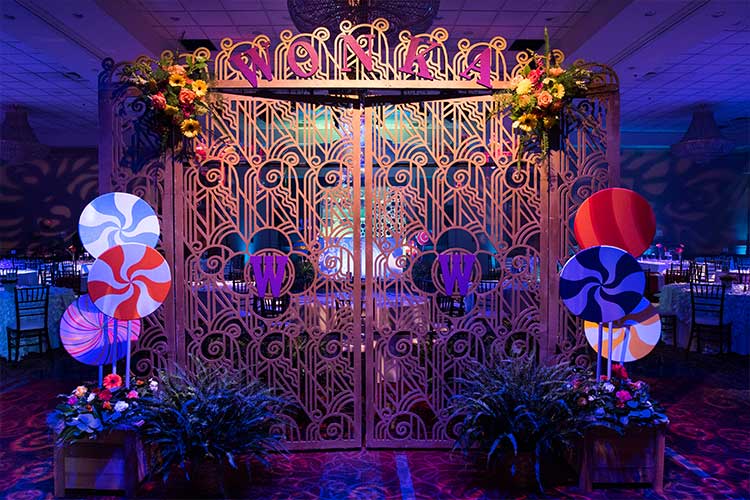 Hingework Photography
6. Christmas Around the World Party
Holiday traditions vary from nation to nation. But one thing that remains the same among all areas in the world is that this time of year is a season to celebrate. "Travel the world" with family and friends by bringing together traditions from around the globe right to your party! We can help plan your event with an international menu for your guests to experience traditional holiday plates from around the world. Help get your taste buds inspired by checking out our new  #HomeForTheHolidays menu!
We know not everyone is a party-planner or has a warehouse full of decor for their event just lying around. That's why we're here to help you be the perfect host! We take care of all of your catering, design, and floral needs and offer everything to be customized so we ensure it all fits your party's theme seamlessly.
Contact us, and allow us to bring any theme you can dream of to life for your next holiday party!