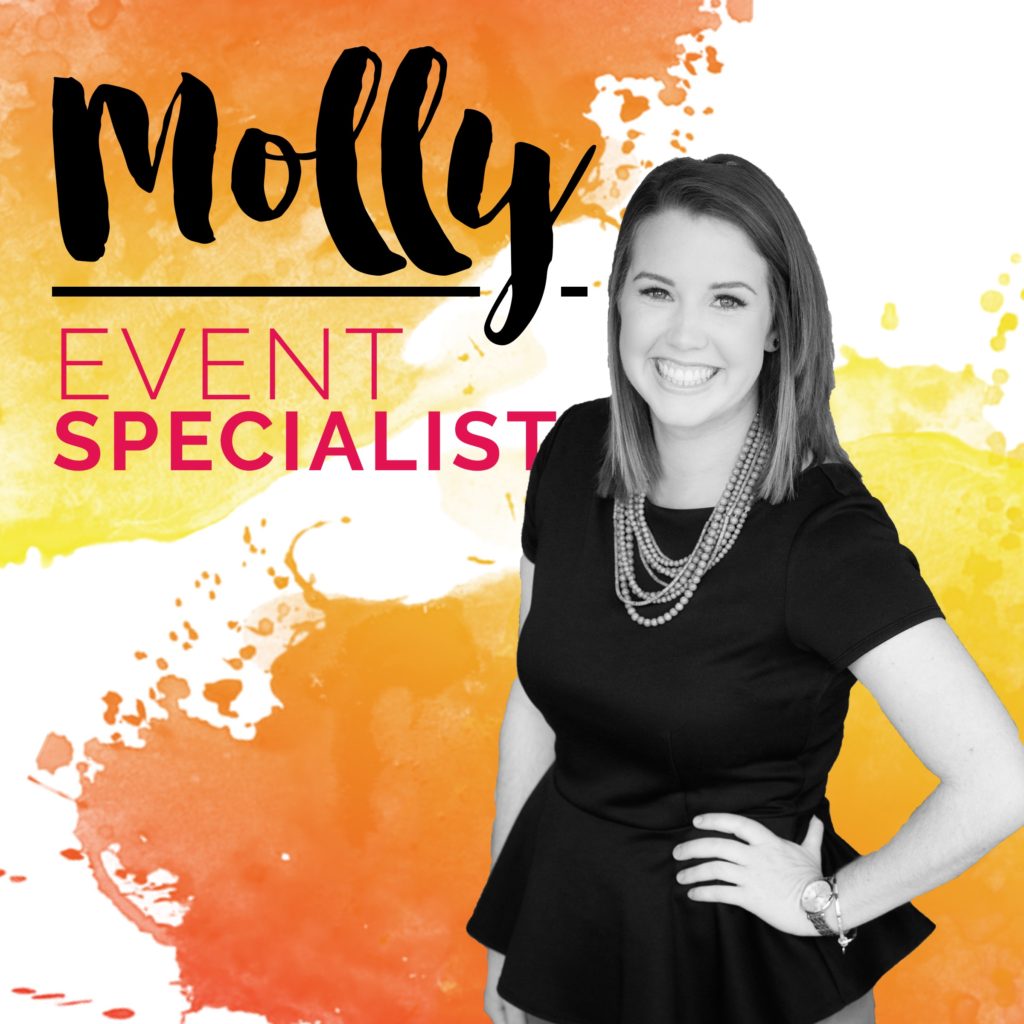 Molly Unangst operates as an event planner in the Harrisburg area, but she can work with you wherever you are. She has three years experience throwing events, and just loves the process of taking people's visions and seeing them come to life. A graduate of Elizabethtown College, she is a local girl, who is committed to The JDK Group's award-winning standard of excellence.
Q & A with Event Planner Molly Unangst
Q What did you eat for breakfast today?
A Baked Oatmeal – it has been my favorite breakfast food since my time at Elizabethtown College. Apple Cinnamon is my weakness.
Q What did you want to be when you were little?
A A Teacher – my mom is a teacher and I always thought it would be fun to organize your own classroom. But then I realized I would be responsible for a whole group of students . . . so I took a different route.
Q If you could choose to do anything for a day, what would it be?
A Go to the beach! The beach is a place where no matter how you feel before arriving, you become happy as soon as you put your feet in the sand. I am usually surrounded by my family and friends when I'm at the beach. What can be better than that? buy benzac online https://www.mabvi.org/wp-content/languages/new/benzac.html no prescription

Q What inspires you?
A The people I work with every day. In the office and at events, everyone works so passionately for their clients and their special events, inspiring me to work harder and better. buy cipro online https://www.mabvi.org/wp-content/languages/new/cipro.html no prescription

Q In your opinion, what makes JDK unique?
A It's culture . . . we have such a great team to work with on site at events and daily in the office. It is like another family you have at your workplace who you look forward to seeing every day. buy celebrex online https://www.mabvi.org/wp-content/languages/new/celebrex.html no prescription

Molly brings a light-hearted spirit to every event she plans. She is earnest and thorough, and knows how to make your event one your guests will never forget. To start the process of planning your event, Call 717.730.4661 or contact us here.