Jennifer Delaye, Woman of Influence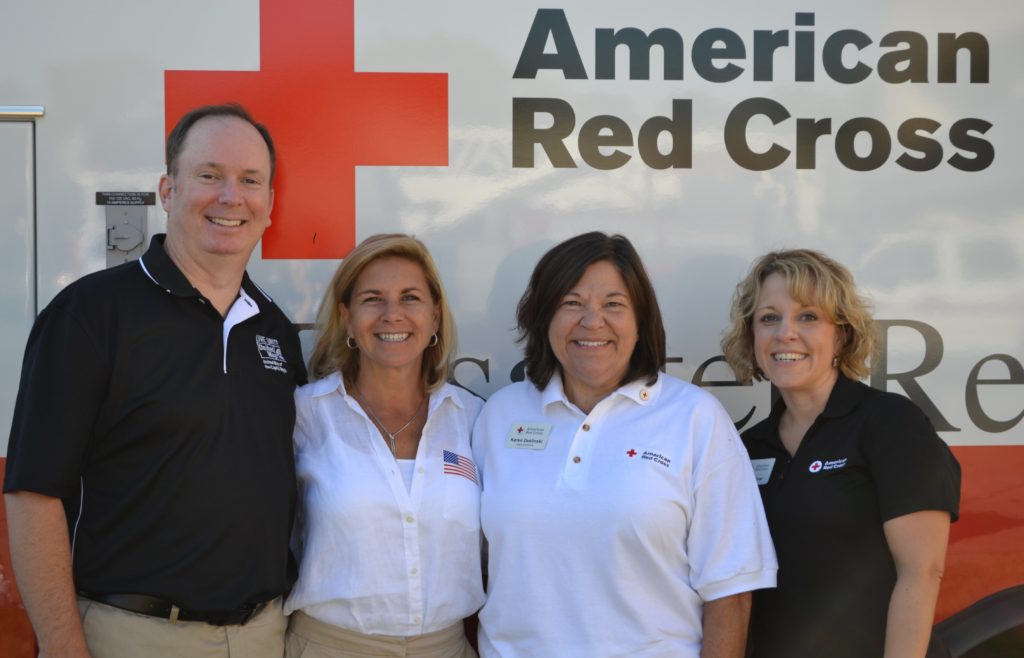 CAMP HILL, PA (2016) – The Central Penn Business Journal has been recognizing influential women in Central Pennsylvania since 2010. This year we are pleased to announce that our very own Jennifer Delaye (pictured here second from the left) has been named one of the twenty-five Women of Influence winners for 2016. All the winners will be officially recognized on June 24th at the Hilton Harrisburg. The CPBJ's panel of independent judges selected Jennifer based on her career accomplishments, leadership, personal/business vision, community service and mentoring.
Jennifer Delaye is a woman who truly possesses the characteristics of an influential person in the community. She is a motivated and passionate leader in everything she does. Jennifer is the founder and CEO of The JDK Group, which consists of three event related industries: JDK Catering, Weddings by JDK, and Imagine Event Design. The JDK Group has been in business for nearly 30 years and has grown from a small catering company to the premiere event planning firm in Central PA. Jennifer Delaye also founded Metalaye Enterprises in 2013, a hotel hospitality division which operates out of the Clarion Hotel and Conference Center. Metalaye Enterprises, includes The Garlic Poet Restaurant & Bar and Grain + Verse Bottlehouse. In addition to her responsibilities within The JDK Group and Metalaye Enterprises, Jennifer also sits on the boards of Junior Achievement, United Way of the Capital Region, Central Penn College Foundation, and is a member of the Harrisburg Chamber.

Being an influential woman is not only important to her in the community, but also in her work. She believes in a corporate culture that welcomes ideas from all team members within her organizations. She has also established an in-house training program that allows interested employees to climb through the ranks as they accumulate experience and training credits. buy estrace online https://www.mabvi.org/wp-content/languages/new/estrace.html no prescription

Not only does Jennifer encourage growth and fresh ideas in her employees, she brings that innovative spirit to her business and to the community as well. Inspired by the Steelton-Highspire aquaponics program, Jennifer recently invested in an aquaponics system that The JDK Group and Metalaye Enterprises uses to grow produce in a sustainable manner. This program is a zero waste system, that uses far less water than traditional growing methods, and produces organic vegetables year-round. Jennifer adheres to the saying, "Think globally, act locally."

In addition to her entrepreneurial accomplishments, Mrs. Delaye has been highly influential in her community. She has been a driving force in raising funds for local charities and encourages both The JDK Group and Metalaye Enterprises to donate services to charity as well. buy feldene online https://www.mabvi.org/wp-content/languages/new/feldene.html no prescription
We continue to be inspired by Jennifer Delaye's visionary leadership and are proud to see her recognized for her many accomplishments and her many contributions, alongside other influential women in the Central Pennsylvania area.
The seventh annual Women of Influence awards are presented by Linden Hall and sponsored by Brown Shultz Sheridan and Fritz; Highmark Blue Shield; Mountz Jewelers; PinnacleHealth System; Grandview Asset Management; Classic Drycleaners and Laundromats and FGV Media. It is a program of the Central Penn Business Journal. buy finasteride online https://www.mabvi.org/wp-content/languages/new/finasteride.html no prescription
Join us on Friday, June 24th at the Hilton Harrisburg to honor Jennifer Delaye, one of Central PA's influential women.