Busy season is coming up fast and we are hiring for a number of positions immediately! 
From being a part of our catering and event staff at weddings, corporate events, and social parties to joining our league of culinary rock stars in the kitchen; we have a multitude of opportunities available now!  We also offer in-house training so no prior experience is required!

Check out three great things about working at JDK below and submit an application for employment by clicking here or filling out the bottom form!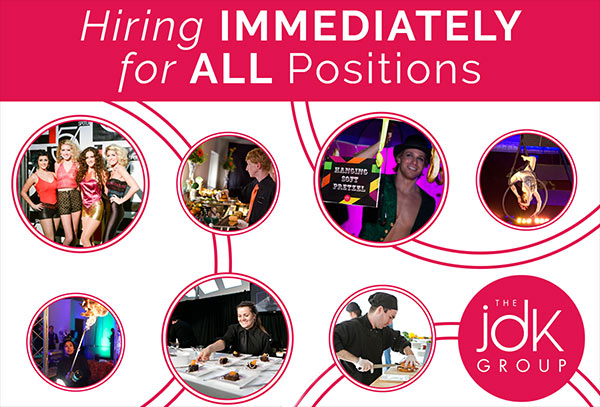 1. You'll have the opportunity to grow inside of our company — fast.
Many of our employees start in entry-level positions and grow quickly within our company.  In fact, a large majority of our event managers started as entry-level servers on our events.  Your positive attitude and good work ethic paired with our new fast-track training process will help you move towards your work goals rapidly!
2. You'll have the opportunity to join an internationally recognized, award-winning team.
We've been recognized locally, nationally, and internationally for our catering and event production because of the hard work and talents of people like you.
3. You'll join a team of friends who care about you & your work.
JDK team members live in a community of unconditional acceptance where diversity is valued, quality of life is enhanced, and individual aspirations are fulfilled. We are more than just people who interact in the workplace; we are a team who has each others' backs and always work together to achieve flawless events.
Join Our Team Today
We're hiring immediately for the following positions:
Staffing & Logistics Supervisor
On-Site Culinary Team Members
In-House Food Preparation Team Members
Lead Event Chefs
On-Site Servers
Event Managers
On-Site Event Food Preparation Team Members
Externships
Overnight Team Members
Dish Team Members
Warehouse Team Members
Laundry Team Members
….and more!