Wedding Table Settings
We are proud to share that the spring 2016 issue of Dream Weddings magazine featured Wedding by JDK/The JDK Group as a style inspiration. David Everett, JDK's Senior Wedding & Event Producer, and the floral team at JDK worked together to design this playful wedding table setting. This design combined dynamic black and white graphics, pops of color and whimsical textures. Is it bold and audacious? Absolutely! But you have to admit, it is utterly captivating!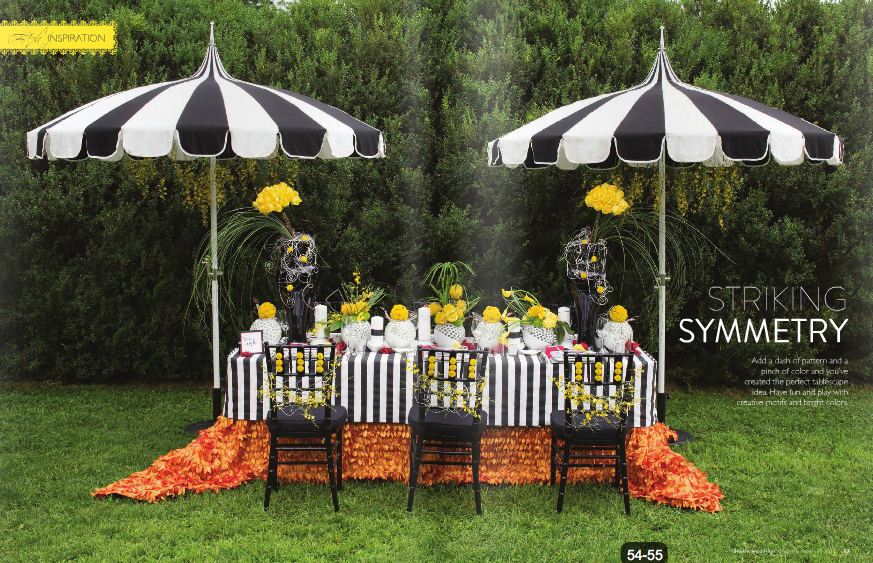 A Closer Look
Taking a closer look, we can see that a lot of deliberate style choices were made to bring symmetry to the overall design.  For example, the wispy touches in the floral arrangements breathe an airy quality into the design and help to balance the weighty black stripes. The contrast of the constrained tablecloth and the leafy underskirt is provocative and surprising. The roundness of the floral vases brings relief to the straight lines of the stripes. As you approach the table, the floral work reaches from your knees to your shoulders. This bridges the gap between chair seats and umbrellas.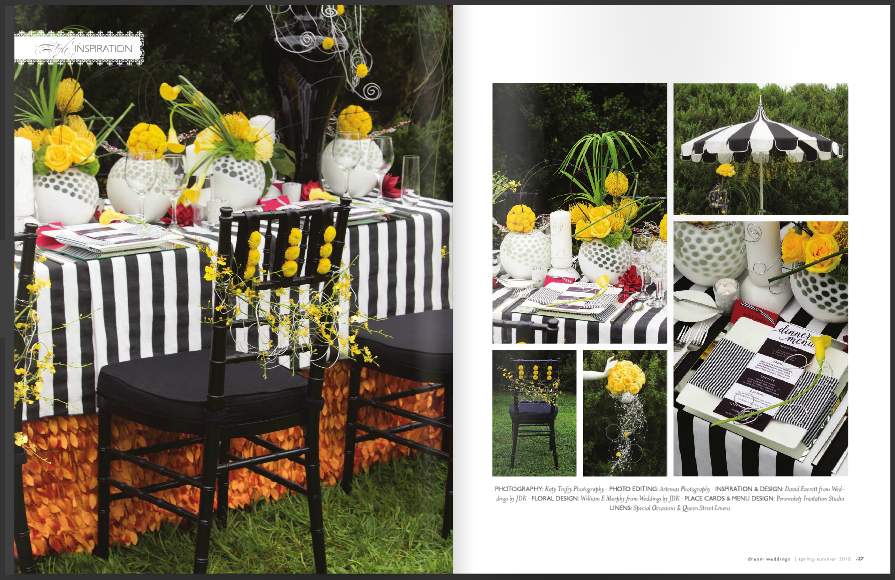 Place Design
As we move even closer, we see that on the place settings themselves, the stripes carry through in the napkins and menu cards. The wispy curves are picked up again on the candles and on the plates. Motifs abound: black and white vs. color, stripes vs. curves, smooth surfaces vs. textured, symmetry vs. asymmetry – it all keeps the eye roaming and the fun rolling.
If you would like to have the JDK team in your corner for an upcoming special event, call us at 717.730.4661 or fill out a contact form here. We would love to bring playful-but-thoughtful design style to your wedding or corporate gala. Let's work together to create something magical!