Imagine an elegant venue space with the flexibility and adaptability to cater to all of your event's needs.
You walk into a beautifully decorated mezzanine, multiple balconies, and a piazza to host your party on. The grand staircase, located in the main foyer, invites you to come in. Small decorative accents garnish the space with hints of your color scheme. Historic King Mansion is now your space to entertain.
As a private historic mansion venue located in downtown Harrisburg, Pa., Historic King Mansion offers two floors of space for you and your guests to enjoy your soiree. Its riverfront location and sophisticated 1920's style can match any classy celebration.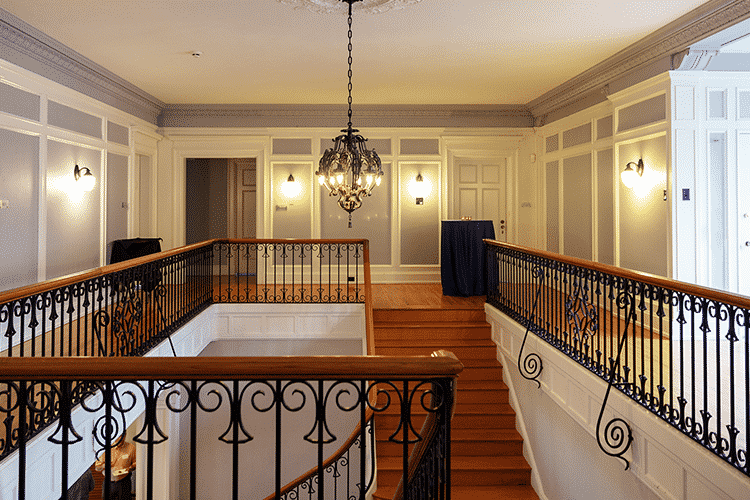 Historic King Mansion accommodates its services to meet the specific requests of you and your guests. From weddings to special events and the holiday celebrations in between, this elegant venue offers the flexibility that you need to plan your next corporate dinner with the riverfront views, amenities, and classy event spaces.
Special Events alongside the Susquehanna River
Ranging from dinners for 300 business professionals to meaningful and elegant bar/bat mitzvahs, Historic King Mansion has the ability to quickly transform from a traditional celebration or holiday gathering into a corporate gala.
A prominent example of this elegant transformation is the K&W Engineers Holiday Party last December. In true JDK fashion, one of our event coordinators designed a murder mystery holiday party for the ages complete with actors as well as guests. This murder mystery dinner combined entertaining and fine dining for its suspects. buy lopid online https://bethanyhealthcare.org/wp-content/languages/new/lopid.html no prescription
Hues of charcoal, red, and other neutral colors set a mysterious mood. Centerpieces of a rope, a revolver, a candlestick, and a poison bottle looked like a turn right out of the popular board game, Clue.
Guests that entered through the back of the building even had to supply a secret password to get into the second-floor speakeasy. Cocktail hour, a mafia-themed dinner reception, and three interspersed acts of investigation with actors carried out the remainder of the mysterious night.
Holidays in the Main Foyer
The holidays. A time for celebration, food, family, and friends. A season for your loved ones and long-distance family members to travel back home. A time of party-planning stresses and last-minute cookie baking.
With its elegant style, landscaped grounds, and regal charm, Historic King Mansion is the ideal location for your holiday celebration. buy lopressor online https://bethanyhealthcare.org/wp-content/languages/new/lopressor.html no prescription
This Italian Revival mansion features two floors in a simple, sophisticated setting that will capture your guests' attention. The Loft, Billiard Room, Drawing Room, and Study all complement the guests' experiences. These optional rooms add plenty of extra space options for your holiday preparations and for your grandmother who just has to cook the mashed potatoes.
For your aunt, uncle, and two cousins from Michigan, many attractions and restaurants are available within walking distance of Historic King Mansion. Upon arrival, they could stay in a hotel rather than your living room. Many reputable hotels are less than a 5-minute drive away from the Mansion's riverfront location.
Although there's no place like home for the holidays, Historic King Mansion can become your home away from home for your next holiday event.
Your Next Event at this Elegant Venue
If you are searching for the ideal place to host your next holiday dinner or company party, Historic King Mansion provides the flexibility and adaptability you need within the elegant venue you deserve. buy lotrisone online https://bethanyhealthcare.org/wp-content/languages/new/lotrisone.html no prescription
To host your next holiday party at this classy canvas, contact one of our event specialists today by calling (717) 831-8744 or by emailing events@kingmansionpa.com.