On March 26th, 2017, The JDK Group hosted the Manheim Auto's Xtreme Spring Charity Gala in Manheim, PA. The Manheim Auto Auction first opened its doors in 1945. 14 years later, in 1959, it became the world's largest auto auction. The company grew on a global scale throughout its 70 years. Now, it has locations as far as Italy, Portugal, and even Turkey.
The Manheim Auto Auction in Manheim, PA. processes upwards of 10,000-12,000 cars for dealer sales each day. Buyers engage with auto auctions in unique ways, today, due to Manheim Auto's innovations. In 1994, the company held its first ever live auction via satellite. Furthermore, the company has created used vehicle indexes and best practices programs, among other services. Manheim Auto's developments now equip dealers in making more of an educated purchase than ever before.
The Pit Crew at the Xtreme Spring Charity Gala

The Keystone Warriors Program was the beneficiary of the charity gala. Paul Spurgin established the charity in 2010 to help ease the financial, physical, and mental burdens of combat veterans. The charity focuses specifically on combat veterans living in PA. Additionally, the Keystone Warriors Program organizes hunting trips, marathons, and fundraisers for these veterans. The charity also assists in their day-to-day financial situations should they need groceries, clothes for their children, etc.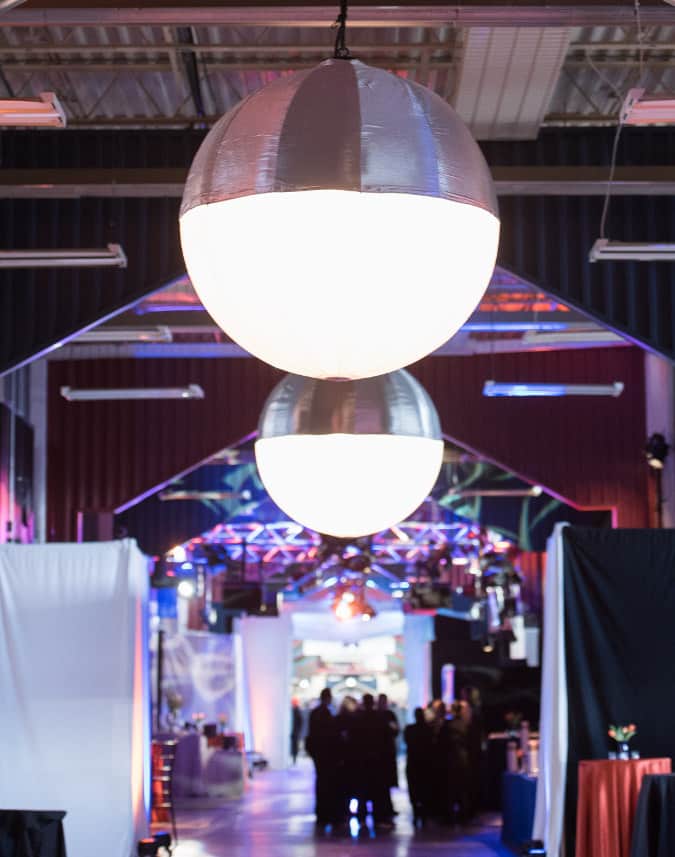 The event was helmed by Event Specialist Molly Unangst. The JDK Group collaborated with Shumaker PDT to provide tables and bars. Shumaker PDT provided most linens as well, while The JDK Group provided all of the food and food stations. The style concept was modern and industrial, but polished and clean. Colors ranged from dark blues to bright oranges and golds, and around 650 guests attended. buy bystolic online https://salempregnancy.org/wp-content/languages/new/bystolic.html bystolic no prescription
Dealers could donate during each sale or at the event itself. It was important for The JDK Group to make this charity gala as successful as possible. Good thing we've done it before!
Start Your Engines!
The JDK Group started the altruistic event off with an hors d'oeuvres reception. The variety of fun, delicious food was enough to get any engine started! These hors d'oeuvres were fully butlered all through the pre-party reception by The JDK Group staff. First, Tomato Soup made the laps, crowned with a grilled toasted sourdough bread cheddar cheese bite. The rest of the hors d'oeuvres struck a balance between seafood and poultry. All were fantastic!
First, Crab BLT sliders with applewood-smoked bacon, arugula, and lemon chive aioli satisfied seafood cravings.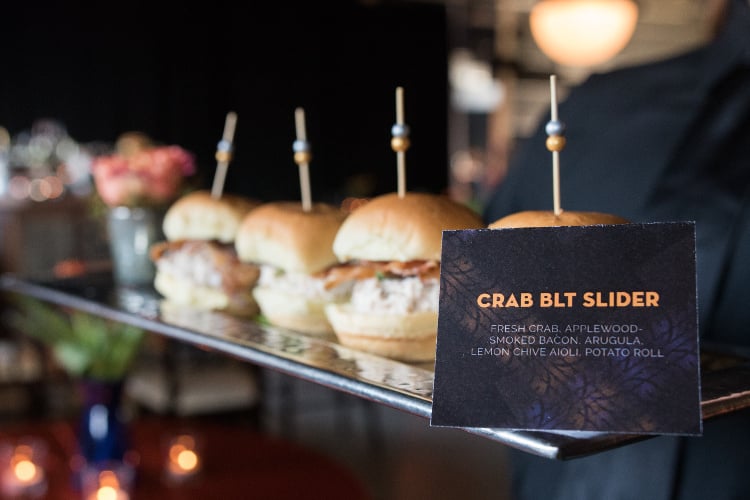 Then, Buffalo Chicken Fritters, sitting on pillows of homemade blue cheese sauce, were served.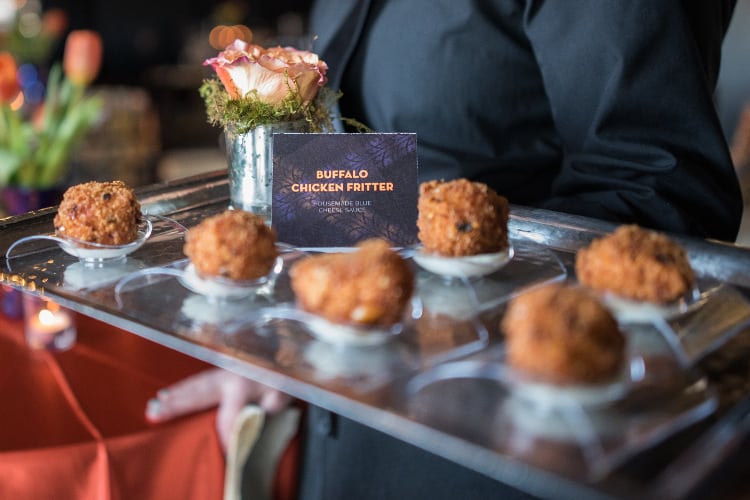 Lastly, Jalapeno Duck Poppers bursting with goat cheese and wrapped in bacon proved irresistible. The poppers were a perfect mix of savory and spicy that was good enough for show!
Show on the Road
The hors d'oeuvres only waved the green flag on the evening's eats. Later on, numerous food stations offered guests all kinds of delicious and interesting roads to go down. If the Crab BLTs hadn't sated the seafood craving, then the Raw Bar most certainly would! The station held an assortment of Cucumber, California, and Alaskan Sushi Rolls. Additionally, a large spread of Jumbo Shrimp Cocktail and Seasonal East Coast Oysters accompanied the sushi rolls. The bar sat on a stack of rustic, wooden pallets provided by The JDK Group. buy imodium online https://salempregnancy.org/wp-content/languages/new/imodium.html imodium no prescription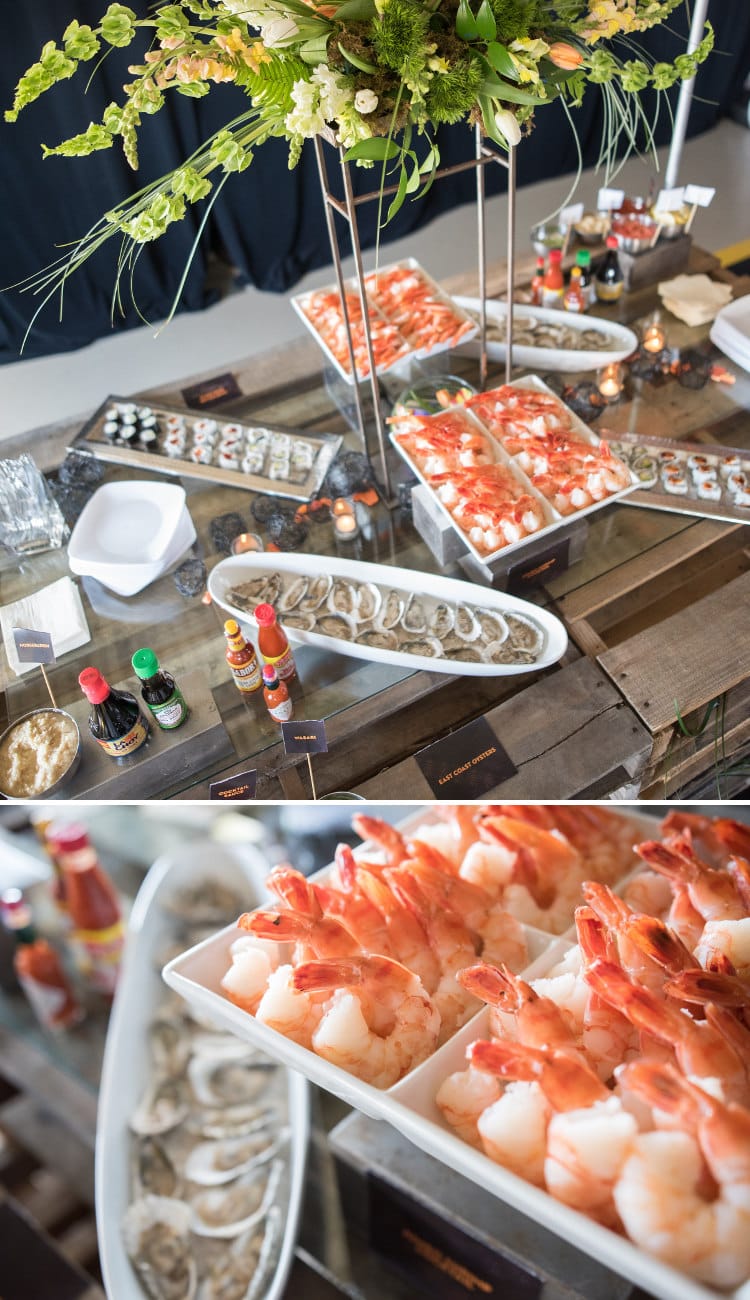 Then, another station filled provided a crunchy assortment of fried foods. Tater Tots, regular and sweet potato, flanked succulent Fried Chicken Lollipops. Furthermore, two types of prepared beef jerky hung on a frame around the station! Beef Brisket and Hot & Spicy flavors made sure attendees got the best of two worlds. The display sat on a wired spool table provided by The JDK Group for an authentic look.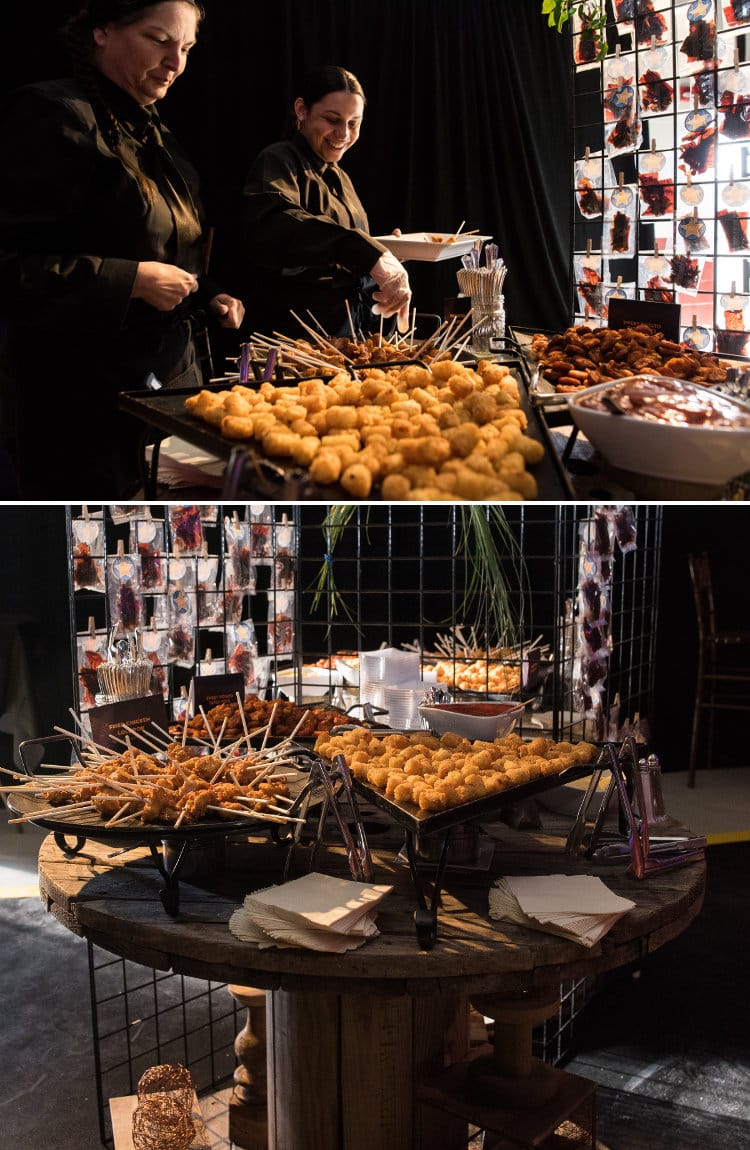 Spitting Flames
The JDK Group chefs had a little somethin' special planned for the food de gras. Check this out; Beef Tenderloin and Pork Belly smoked right in front of your eyes!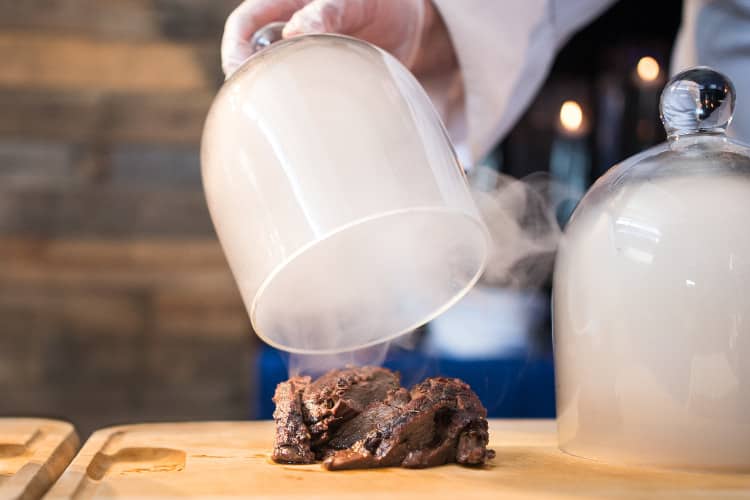 The marinated beef tenderloin strips had a balsamic reduction. Then, Wild Mushroom Bruschetta, Goat Cheese, and Wasabi Infused Risotto bumped it up to the next class.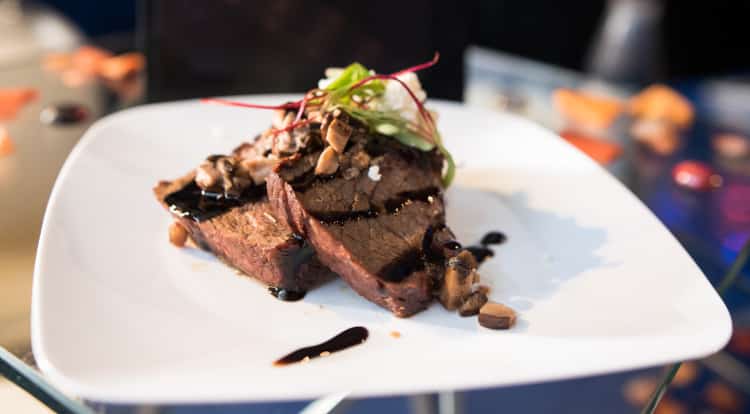 Sweet Corn Puree, Dehydrated Apples, and Micro Beet Greens dressed the Smoked Pork. Additionally, a Black Fig and Chili Sauce drizzle offered a rich, complex, dimension to complement it.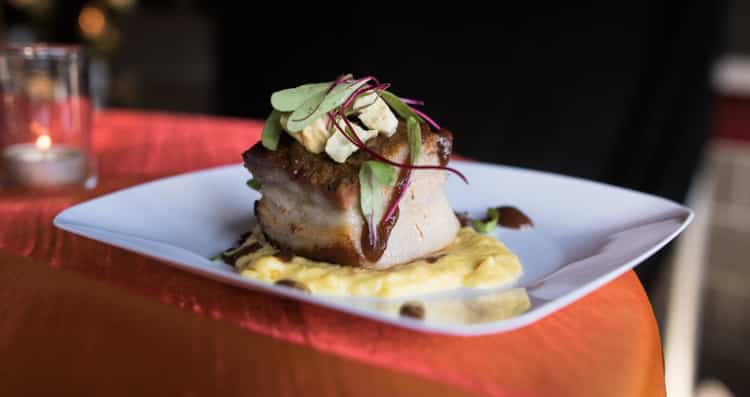 If all these pit stops weren't enough, a Stuffed Waffle Station was sure to push the tasting to the apex. You can't have smoking tires without flaming exhaust. But these flames were a whole lot sweeter, don't worry!
It's got to be hard choosing between S'more, Apple Pie Twist, and Strawberry Shortcake-flavored Stuffed Waffles.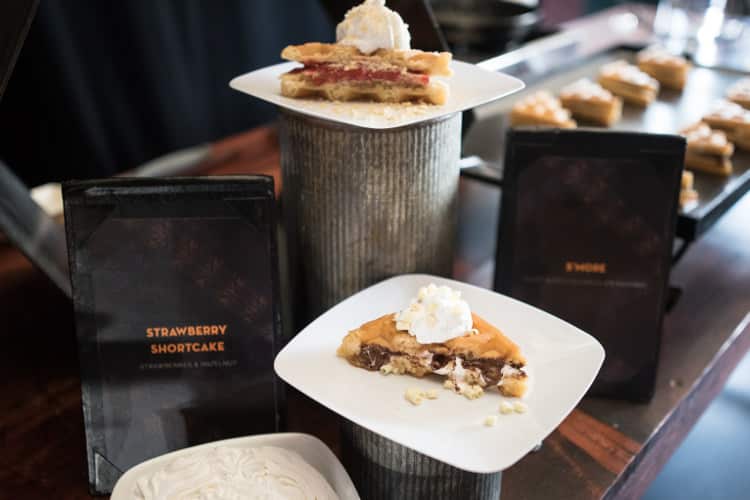 The sweet tooth satisfaction kept on rolling even after the Stuffed Waffles due to Miniature Desserts! Like the Stuffed Waffles, the desserts were offered in 3's. Firstly, a Dark Chocolate Mousse with Cherry Compote and Brandy Cream. Secondly, a Banana Cream Pie with Vanilla Wafer Crumbs, Caramelized Bananas, and Toasted Coconut Cream. Lastly, a Rhubarb Mascarpone Trifle with a crunchy Ladyfinger Crumble. Holy cow! buy glucophage online https://salempregnancy.org/wp-content/languages/new/glucophage.html glucophage no prescription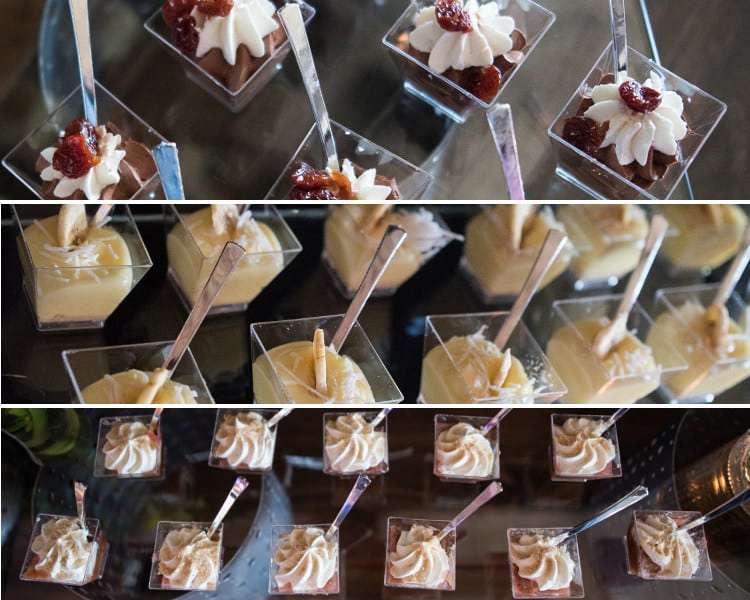 The Finish Line
The actual auction lasted from 5:00-6:00 PM. While that may seem short, it was a certainly chaotic! The amount and variety of cars shown in that lone hour is a testament to the efficiency of Manheim Auto. The event and food definitely put smiles on attendees' faces as the event lasted into the evening. Most importantly, it was for a great cause! The JDK Group and Manheim Auto made sure the Keystone Warriors Program got the ample funding they needed from their Xtreme Spring Charity Gala.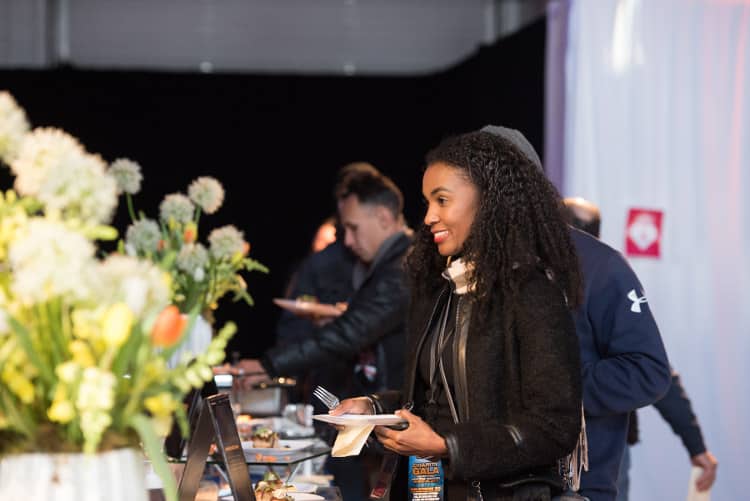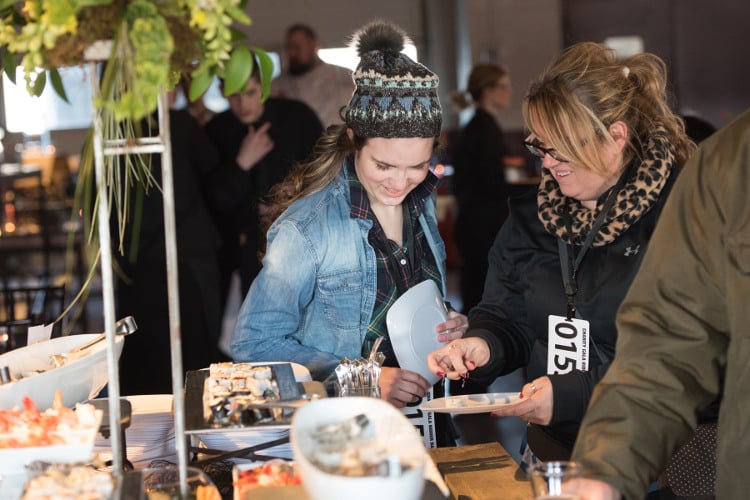 The Xtreme Spring Charity Gala is one of the many corporate events The JDK Group is involved with each year. We do parties and events the right way! If you're interested in getting a quote on your corporate event ideas, tell us here! Our event specialists will work with you to make sure your event is as unforgettable as the Xtreme Spring Charity Gala. If you'd like to donate further to the Keystone Warriors Program, check here!